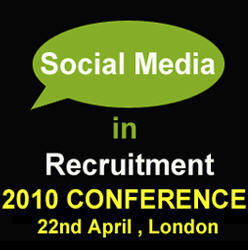 We are delighted to have such a great line-up of speakers for the Conference
(PRWEB) March 11, 2010
The second Social Media In Recruitment Conference takes place on Thursday 22nd April 2010 at the British Library Conference Centre in London with Google, LinkedIn and some of the UK's leading Social Media in Recruitment specialists sharing their knowledge at this prestigious event.
"We are delighted to have such a great line-up of speakers for the Conference" said Mike Taylor from Web Based Recruitment, organisers of the Conference. "The first conference in July 2009 quickly established itself as the leading event covering Social Media in Recruitment in the UK and I am looking forward to another successful conference to help Corporate Recruiters, Recruitment Agencies, Recruitment Advertising Agencies, Job Boards and Recruitment Industry suppliers get the most from using Social Media in Recruitment."
2010 Social Media In Recruitment Conference Programme
The subject areas to be covered at the Conference will include:

Strategies for using LinkedIn as part of your online recruitment plans.
Insights from Google to help you recruit using social media.
How to maximise the use of Facebook pages as a recruitment tool for your company.
Key strategies for using Twitter effectively in recruitment, including the use of automated tools.
How online communities can play a part in your social media recruiting strategies.
The legal issues surrounding social media and employment.
Social media strategies for Generation Y job seekers.
Social Media Success Stories
Social Media Discussion Panel
Social Media In Recruitment Success Stories:
Taylor is particularly excited that two delegates from the first Conference will be sharing the Social Media strategies they have implemented since attending the July 2009 Conference. "I have never heard of delegates from a previous event coming back as speakers for the next event and sharing their success", continued Taylor. "They both have a unique story to tell and place a major factor in their social media success down to the quality of information they learnt at the first conference."
Speaker Preview Interviews:
A brand new series of audio and video preview interviews with some of the Speakers has just been published on the Conference web site at http://www.SocialMediaInRecruitment.com so that delegates can hear in advance what will be covered on the day.
International Delegates:
There were 150 people at the first Conference which was a clear indication of the interest in Social Media. For the April 2010 Conference bookings have already been received from the UK, New Zealand, USA, South Africa, Germany, Holland, Belgium and Malta which Taylor believes is down to the quality of the programme that has been put together.
For further information about the Conference visit: http://www.SocialMediaInRecruitment.com where you can also save £50 by booking before the 31st March 2010.
# # #