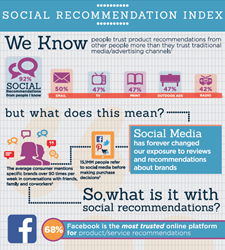 Duringtheholidayswheneveryoneislookingfortrustedinformationonwhattobuy,recommendationsfromyoursocialcirclesonFacebookwillcarrythemostcredibility.-SusanFrech,chiefexecutiveofficer,SocialMediaLink.
New York, NY (PRWEB) December 09, 2013
Survey uncovers Facebook as most trusted review platform over Pinterest, Youtube and Twitter. Social media sharing is driven by positive over negative opinion. Personal stories influence consumer buying behavior over star ratings and there is very low opinion of paid bloggers and celebrity endorsements.
INFOGRAPHIC WITH SURVEY DETAILS AVAILABLE http://socialmedialink.co/social-recommendation-index-infographic.
A new survey of 10,337 people who are active in social media found that when it comes to product and service recommendations, Facebook was the most trusted platform; over two-thirds (68%) say they trust Facebook over Pinterest (56%), YouTube (51%) and Twitter (41%). The vast majority of survey respondents (93%) are women; 70% of respondents are ages 25-44.
The Social Recommendation Index, sponsored and conducted by advocacy activation company Social Media Link (http://www.socialmedialink.co), also found that quality, not quantity counts. 77% said that fewer than 10 reviews compel them to make a purchase decision.
"During the holidays when everyone is looking for trusted information on what to buy, recommendations from your social circles on Facebook will carry the most credibility," says Susan Frech, chief executive officer, Social Media Link. The company has over 350,000 socially active enthusiasts in its network. "Undoubtedly, the survey found that people don't need hundreds of recommendations and reviews to entice purchase, it's really about receiving a quality message from a trusted source."
The study underscores whose reviews have the biggest impact on purchase decisions, with celebrity reviews holding the least credibility.
.86% say reviews by friends and family have the biggest impact.
.Slightly more than one third surveyed are swayed by blogger reviews (39%).
.Only 11% said a celebrity review has the most impact on a purchase decision.
Personal Stories Better than Star Ratings
According to 40% of those surveyed, the most valuable reviews are those that contain personal stories, rather than a list of product benefits, which were most valuable to 34%. Those ubiquitous star ratings are less prized, a scant 15% say they're the most valuable in influencing purchase.
Reviews Mostly Prompted by Good Experiences
The study also explored why people share their opinions online and found that a positive experience with a brand was a primary driver of online reviews, 78% said they shared based on their experience. Less than half, 47%, said a negative experience prompted a review.
Free Matters
Whether or not a review was prompted by a freebie impacts the trust value.
.86% say they trust friends and family who received a free product in exchange for a review.
.68% say they trust friends and family reviews that are pay for play.
.Free blogger reviews also rank high, 76% say they are trusted.
.Only 45% trust paid blog reviews.
Additional Details:
Respondents' Demographic Profile:
.93% Female; 7% Male
.1% Under 18
.10% 18-24
.41% 25-34
.29% 35-44
.14% 45-54
.4% 55-64
.1% 65 or older
Survey Methodology: The Social Recommendation Index is an online quantitative survey, which was issued to all members within the Smiley360 (smiley360.com) community in October, 2013. 10,337 respondents from Smiley360's community answered a 20-question online survey. For questions about the survey, please contact Jordan(dot)Herrmann(at)socialmedialink(dot)co
About Social Media Link: Social Media Link (SML) http://www.socialmedialink.co is the leading advocacy activation company that amplifies social media conversation for brands. The company makes it easy for brands to activate impactful and trusted reviews and recommendations across social media, triggering in-store action and leading consumers through the path to purchase. SML's brand activation platform, http://www.Smiley360.com, is a social community for influential people who love brands. Marketers utilize the platform to activate targeted consumers to experience their brand and share reviews with the social networks they influence. Proprietary Single-Click Sharing™ technology makes it easy for consumers to feed reviews to their most preferred social networks in one place, giving brands enormous exposure in social channels from passionate consumers.