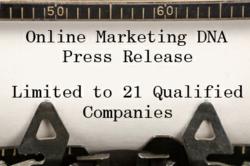 The interweb is constantly evolving, so adapting to the new media of marketing is a must!
Orange, CA (PRWEB) September 13, 2012
Online Marketing DNA (OMDNA) is officially open today to help businesses leverage their online presence by utilizing cross-channel Social Media Marketing to generate Traffic, Leads and Sales while building online authority in their industry. The program is designed to help businesses get ranked in the organic placement in the search engines by using time-tested proven strategies that build a long-term sustainable presence online.
The interweb is constantly evolving, and adapting to the new media of marketing is a must!
"Society expects instant access to answers and information; it demands it," says Simon Volkov, Chief Marketing Strategist at Online Marketing DNA. The more complex and diverse marketing becomes, the more difficult it is for small to medium businesses to succeed online building their brand, generating leads, and selling more products and services.
The secret to online success is to be constantly building your presence with, and by providing solutions for communities, tribes, social groups. Though that is a small part of an overall plan for marketing, in this instant access society we live in today, it's a necessity. Many business owners, entrepreneurs and marketing directors don't have the time, money or desire to learn, test and study the new medium of online marketing that can be described, on a good day, as a "moving target".
OMDNA's approach to help businesses is to be a marketing services solution provider for marketing departments and business owners alike. They utilize the strategies that Fortune 1000 companies use but on a smaller scale, and ramp them up as budgets increase.
OMDNA will limit the number of committed qualified companies to twenty one for its proprietary program that is coined as the "Proven System". Starter marketing programs will start as low as a few thousand dollars per month and companies and business owners will have to qualify for the programs. The program is a process and commitment to the plan is key for success. The time and financial obligations are part of the long term strategy for creating your expanding presence.
Volkov states that this is a slow and steady process that takes time to map out into a master strategy, and companies must be committed for the long haul and have the financial means to do so. He states "We limit the amount of qualified clients to provide an excellent long term experience."
Let OMDNA do all the grunt work for your business and help build a strategic plan for you to succeed online, thereby freeing up some of your staff to let them to focus your core business.
For those who want to learn how to get more traffic to their websites, go to OMDNA's homepage; watch the video and then fill in your email name and number to get your free white paper.
For additional information contact: Barbara Thorpe at 360-527-2630 or Barbara(at)onlinemarketingdna(dot)com, or visit http://www.OnlineMarketingDNA.com.
About Online Marketing DNA
Online Marketing DNA provides cross channel search engine optimization (SEO) and business marketing services for social media to help boost online visibility for businesses. OMDNA uses its' own proprietary proven system to leverage technology that is cost-effective as well as being scalable.