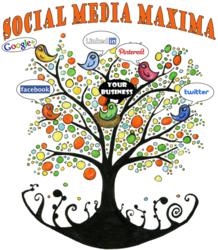 Fairfax, VA (PRWEB) November 27, 2012
What started, common enough these days, as a response to a lay off followed by a lengthy and unsuccessful job search, evolved into a viable business poised at the crest of the social media revolution. Though she came to the job market fully educated and qualified, Ms. Howard discovered the need for the support she was giving others for fun was actually a real business proposition.
When Social Media Maxima first opened their proverbial doors two years ago this month, social media was still emerging as a legitimate resource for small businesses to showcase their products and service. Of course, larger companies have been successfully leveraging the power of these platforms for years, but smaller businesses and 1099 employees were just coming to the notion of social media as a marketing tool. As Ms. Howard encountered exasperated professionals unable to manage the increasing demands of social media, the dearth of local inbound marketing services for small business presented as an obvious platform for new business offering.
As print adverting avenues dry up and social media/inbound marketing increasingly becomes a business development item in most industries, the need for businesses to have a quality online presence can no longer be denied. Though some still do. When asked if they are getting all the business they can handle from traditional marketing, few entrepreneurs would say "yes". Even marketing channels with a successful track record, like print ads and personal referrals, may still produce revenue, but without a positive online presence, many businesses will experience a decline in sales over time.
The difference in the response business owners gave Ms. Howard two years ago from how they respond today is quite remarkable. She reports, "In November, 2010, about half of the professionals I met at a networking event were interested in either my business or the field of inbound marketing. Now, when I meet other business owners, they may not be serious prospects for my service, but without exception, they have something to say about inbound marketing. It is as unavoidable as the fodder created when we were shifting from postal to email communication".
As the internet marketing field evolves, businesses like Social Media Maxima will be on the forefront of the social media revolution.