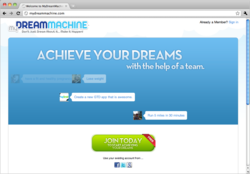 We are so excited to finally be able to bring a technology platform to the world that truly fulfills on the promise of the internet.
San Clemente CA (PRWEB) July 20, 2011
Super Star Learning Company, the leading online provider of 21st Century e-learning, today announced the launch of My Dream Machine, the nation's very first Social Achievement platform, specifically designed to provide users with communication and collaboration skills to set and achieve goals, form teams, and track progress.
My Dream Machine, fully integrated with Facebook, empowers anyone, of any age, or background, to create goals and gives them the fundamental skills to create a course of action, collaborate with peers, and to design and set goals. Goals and dreams can be specifically broken down into achievement levels in order to significantly improve their ability to attain results.
In addition, My Dream Machine incorporates a customized closed social network for users, called their "Dream Team," that will serve to support and encourage the user to seek and find and utilize the tools necessary to succeed on their way to achieving goals such as physical fitness, continuing education, saving money, starting a band, becoming a journalist, or any other conceivable dream a user may want to achieve.
My Dream Machine consists of the following key components, specifically targeted towards influencing goal setting, achievement and community among users:

Full Integration with Facebook: Users may log in to My Dream Machine using their Facebook logins, as well as instantly publish their dreams to Facebook, receive feedback from their closed network of friends, as well as to immediately turn Facebook friends into Dream Team members.
Benchmark and Tracking System: This feature adds timelines and dates to each dream or project so that the student has actual steps that can be completed within a particular timeframe. Each dreamer will have a profile page that displays current dreams and the underlying information that will help them get that dream or project to completion. The dream team will be able to post comments
of encouragement or suggestions for each dream.

Dream Team Feedback: to receive feedback from their dream team regarding their goal, project or dream.
My Reminders: to receive reminders of upcoming deadlines for each goal or dream benchmark.
Encouragement Wall: Members of the dream team will be able to post encouraging comments on the dreamers profile page.
According to John Stippick, President of Super Star Learning Company, "We are so excited to finally be able to bring a technology platform to the world that truly fulfills on the promise of the internet. The goal of the internet is to empower with knowledge. The goal of My Dream Machine is empower with planning tools and teams so a user can indeed accomplish anything. My Dream Machine provides the tools necessary not only to set high goals, but to make those dreams a reality. Our dream as a company is to transform the way a person see themselves, each others, and their view of life. My Dream Machine is one critical step in achieving our dream. We challenge any person to dream big."
My Dream Machine capitalizes on the success of the Room 21 Online Social Learning Community for Education, released in February, which is currently being used by more than 50,000 students worldwide.
In addition, Super Star Learning Company will be announcing versions of My Dream Machine, specifically designed for Schools and Universities, corporations' Training & Development and HR goals, Workforce Development, and many other industries that incorporate goal-setting and achievement as a key success indicator.
Super Star Learning Company is also accepting applications for grants for the company's educational and learning products through the Super Star Learning Company Charitable Foundation. For more information or to apply for a grant, please visit: http://superstarlearning.com/?page_id=54
About Super Star Learning Company
Super Star Learning Company is committed to providing innovative and powerful technologies that are simple and easy to deploy and become the source of education transformation for students, teachers, and administrators.
My Dream Machine is the very first Online Social Achievement Technology Platform, designed to give dreamers the tools to set goals, "dream big" and to achieve any goal they set forth. My Dream Machine gives you the support you need to succeed every step of the way.
Room 21™ is an Online Social Learning Platform where all the members of the learning community (Students, Parents, Teachers, and Administrators) become engaged in the 21st century learning process.
###