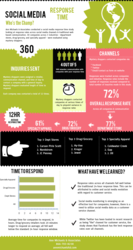 The immediacy of social media has increased the demand for quick response time to consumers; this study reveals that companies have responded to this demand in a positive manner.
Naperville, IL (PRWEB) February 01, 2013
Ann Michaels & Associates has released key findings from a social media response rate study conducted in Q4 2012. This independent study was conducted to determine response rates to consumer inquiries made via social media and online communication channels.
The study utilized mystery shoppers to make inquiries to 30 companies across three industries – drug/grocery, department store, and specialty apparel retailers. Companies were randomly selected based on industry, having a strong geographical presence, and active social media sites.
Mystery shoppers were instructed to contact each of the 30 companies at various times of day and day of the week across three channels – traditional web based "contact us" forms, Facebook pages, and Twitter pages. For Twitter inquiries, shoppers were instructed to make half of the contacts directly on the company's Twitter page, while the remaining half simply posed inquiries on their wall utilizing the company name as a reference. The latter inquiry was designed to determine the effective use of social media monitoring as a customer service channel.
Once inquiries were made, mystery shoppers were required to track the length of time before a response was received. If a company did not respond within three business days, the interaction was documented as unresponsive.
The study looked at response rates in general and across the various communication channels. Additionally, the study reviewed data across industries to determine if variances exist.
Results from this study were overwhelmingly positive; while rate of overall response, regardless of communication channel and/or time of day, was at 72% across all companies, the speed of response fell within an average of 12 hours. This depicts the increased speed of response to consumers, which in part has been dictated by consumer's demand for a more immediate response.
Other key findings include:

Department store retailers showed the best response rate to inquiries across all channels, at 77%
Facebook inquiries received the quickest response compared to web contact and Twitter inquiries; responses were generated within 11 hours and 36 minutes, compared to 12 hours and 34 minutes for Twitter responses and 17 hours and 35 minutes for web based responses.
Less than 1% of inquiries made via "indirect" Twitter contact – that is, inquiries posed on mystery shopper's Twitter feeds referencing the company but not posting directly on their feed.
When companies do not immediately respond on Facebook, it is interesting to note that other fans/users tend to try to help each other out. This sense of community was evident on several company pages across all industries.
The company will be hosting a complimentary webinar on February 7th at 10:00am to discuss the study and the findings at length. Registration is open to the public.
About Ann Michaels & Associates
Ann Michaels & Associates, a leading customer experience management firm, has provided customer service solutions to companies over the last decade. Core services include mystery shopping, customer feedback/satisfaction programs, and social media management. The company recently launched a point of experience feedback program, offering a feedback console that captures consumer opinion onsite as the consumer is engaged in the experience.
The company works with clients across a variety of industries, including, but not limited to, retail, restaurant, healthcare, B2B, financial, park districts, and associations. Each program is fully customized to measure, monitor, and maintain company operations and standards, and the company provides guidance and recommendations to continually enhance the customer experience.