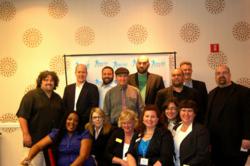 Honestly, this was one of the best, most professional, most informative social events I've been to in several years! Thanks for letting me be part of it.
Tulsa, OK (PRWEB) April 04, 2011
"Honestly, this was one of the best, most professional, most informative social events I've been to in several years! Thanks for letting me be part of it." -- Becky McCray, Small Town Business Specialist and keynote speaker.
On March 24, 2011, Cheryl Lawson, Founder of Party Aficionado social marketing firm, organized the first Social Media Tulsa Conference which was held at the all new Hyatt Regency in downtown Tulsa. Everyone knew this would be a different kind of conference when Cheryl kicked off the conference by telling everyone, "Please DON'T turn off your cell phones."
"Social Media Tulsa started as a meetup group to help me rediscover my home town and connect with other social media enthusiasts, Said Cheryl Lawson, social marketing specialist and founder of Social Media Tulsa. What has happened was something much more than I ever expected. People, needing to understand how to get started with using social media, began to join the group. While it's difficult to claim expertise in something as new as social media, everyone has a story to tell and we were able to put people who have had success with social media together with those just starting out," Lawson continued.
From the opening Keynote to each break out session, the tone of the conference was informative, interactive, and focused on the power of social media to share local success stories. "Everybody was there to learn or to teach," said Tiffannie Slone, owner of Captured Charms Photography and the official photographer of Social Media Tulsa Conference.
The excitement from Social Media Tulsa Conference was shared by many in attendance.
"Great, GREAT event Cheryl. I don't say this lightly. One of the best conferences I have been to in a while. You took social media to a level beyond sales pitches and pettiness, sparking ideas and conversations about how to use these tools to make our city better. Very awesome. I'm excited," Carlos Moreno, Graphic Designer, Web developer, and Speaker.
"Cheryl, you put on a great event! It was a blast and I was so happy to be in a place that sees the value of social media and how it can help businesses today. Keep up the hard work and I look forward to our monthly meetups," Kersten Anderson, MBA, Attendee.
Cheryl did an excellent job with the Conference. Great networking and information, and FUN!!! Looking forward to the next event, Kevin Hoff, Attendee.
"Tulsa was a great host. We had people from Kansas, Iowa, and all over Oklahoma in attendance. I'm really proud of the event, and I can't wait to see it grow year after year," added Cheryl.
Up next is the Turn Tulsa Pink Meetup in support of The Cares Enough to Wear Pink organization which raises awareness and support for ALL women who have been affected by any form of cancer.
About Social Media Tulsa:
It all began with Social Media Day Tulsa at Fat Guys Burger Bar in the historic Greenwood district. Social Media Tulsa is a community that invites its members to gather and talk about the impact of Social Media on business, news, entertainment, sports, nonprofit, and any other areas. You don't have to be an expert to join. Social Media and social networking is new and growing and no one can claim to know it all. Collectively, we can share knowledge. To learn more and join the meetup group visit http://socialmediatulsa.org/.
About Party Aficionado
Party Aficionado is the leading social marketing firm. We help you share your story using event marketing, social media marketing, internet marketing, and PR. Learn more visit http://www.partyaficionado.com/.
# # #