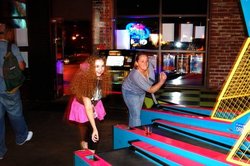 Had a great time! Everyone who wore their '80s attire looked the part! Glad to see some new faces as well as the regulars!
Tulsa, OK (PRWEB) November 1, 2010
Preppies, yuppies, punk rockers, and new wavers attended Social Media Tulsa's totally tubular '80s party at The Max Retro-pub in downtown Tulsa.
"Had a great time! Everyone who wore their '80s attire looked the part! Glad to see some new faces as well as the regulars!" -- Tiffannie Sloane.
The night's topic was video. "Video may have killed the radio star, but it can make you a star of your own brand," said Cheryl Lawson, founder and organizer of Social Media Tulsa. "I asked a few of my friends to share how important video can be to any social media marketing strategy."
In a project using video hosting site Vimeo, Lawson asked people to "Record a Greeting for #SMTulsa" #SMTulsa is Social Media Tulsa Twitter® hashtag.
Videos were submitted from Gina Schreck (Denver), Stacey Soleil, (Los Angeles), and a few companies got into the act. PRWeb's Frank Strong recorded a quick video about the value of video within press releases. Whrrl, the all new location based service recorded the very first video greeting for Social Media Tulsa.
The featured video was an interview with Vodburner CEO, Jeremy Hauge (Australia), using Vodburner's software that provides recording and editing of Skype video calls.
Two Social Media Tulsa members also recorded video greetings. Amanda Burr introduced her new blog, Mommy Evolved, and Judy Grove, CEO and founder of Breast Impressions, recorded an invite to Pink Heals Tour Tulsa in support of Breast Cancer Awareness month.
"It was a great time, especially the '80s themed bar owned by Blake! I enjoyed meeting up with friends again! I highly recommend this meetup group to anyone wanting to be more involved in social media!" -- Norbert Gallagher Dc
The next Social Media Tulsa meetup will be a Twitter chat. Tap11 will provide an online demo, showing how Twitter can be an important part of a social media marketing strategy. The Twitter chat will prepare members for the holiday #Tweet4Toys collaboration project with the Tulsa Salvation Army.
About Social Media Tulsa
It all began with Social Media Day Tulsa at Fat Guys Burger Bar in the historic Greenwood district. Social Media Tulsa is a platform that allows its members to get together and talk about the impact of Social Media on business, news, entertainment, sports, non profit, and any other topics that need to be discussed. You don't have to be an expert to join. Social Media and social networking is new and growing and no one can claim to know it all. Collectively, we can share knowledge.
Follow Social Media Tulsa on Twitter @SocMediaTulsa
To join, host, or sponsor a Social Media Tulsa meet up, visit SocialMediaTulsa.org
###