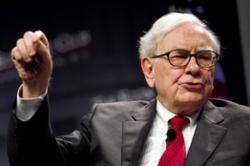 Lunch With Warren Buffett: One Giant Tax Deduction
Houston, TX (PRWEB) June 19, 2012
Billionaire investor Warren Buffett's Social Meter is the highest ever. On June 8, 2012, an anonymous donor paid $3.46 million to Glide, an antipoverty group in San Francisco, for the privilege of having lunch with Mr. Buffett.
The donation will relieve the donor of approximately $1.2 million in taxes due to the IRS in 2012. In exchange, the donor and up to six guests will receive an invaluable meeting with a man that has a huge influence in the business world.
"My Social Meter is currently around $250" says Malcolm Sykes, Vice President of Business Development at a large bank in Houston, TX. "I just donated $1500 for a meeting with Vernon Jordan to The National Urban Technology Center. The market is currently irrational."
SocialMeter.org, a Houston startup is fixing this inefficiency. On the site, users can bid and offer meetings with other professionals for charitable donations. Patented alogarithms determine its users "Social Meter."
Some of Houston's most successful entrepreneurs have signed up. Charitable organizations are taking notice as well, as the website allows non-profits to benefit from the exchange.
Users sign up with their Linkedin account and can search for other professionals that they would like to meet for business.
"It's a lot easier than cold-calling" says Bryant Mitchell, who donated $700 for lunch with Tony Chase, head of the Greater Houston Partnership. "One deal would more than pay for the lunch," says Mr. Mitchell, who owns a growing consulting company in the city.
"Warren Buffett would get $5 million on our site," claims a Managing Director of the company.
Warren, have your people call 1-888-577-4327 to look into this.