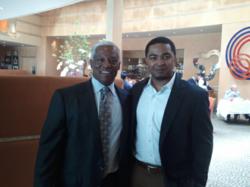 "Social Meter is a great idea"

-Tony Chase

Houston, Texas (PRWEB) May 15, 2012
Houston has always been a town where entrepreneurship is woven in its resident's fabric. "Most of the money here is first generation" said Tony Chase, chair of the city's Greater Houston Partnership, as he shared his experience over lunch at Tony's with Bryant Mitchell. Mr. Mitchell, who donated $700 to Houston's Museum of African American Culture (HMAAC) for the power lunch mentioned to one inquisitive guest who asked if Mr. Chase was treating, "Tony is the treat". Mr. Mitchell is a young entrepreneur who owns a successful consulting company.
These two entrepreneurs, one up and coming, and the other accomplished, swapped stories of successes, failure, family and business in a setting of Houston's elite. Tony Vallone stopped by the table to ask about Mr. Chase's mother, Drucie Chase, who sits on the Board of HMAAC. Franci Crane, wife of the owner of the Houston Astros was introduced to Mr. Chase's guest. "That's a good guy" mentioned Mr. Mitchell after the lunch. "He knows everyone."
The lunch was facilitated by the Houston-based social venture, Social Meter. Social Meter seeks to facilitate professional introductions to influential executives through its social network at http://www.socialmeter.org. Tony Chase offered to host it's first lunch on behalf of HMAAC. An auction for the lunch was held on Social Meter's website, and the winning bidder was Mr. Bryant Mitchell. "It's a great idea" mentioned Mr. Chase at the lunch.
Social Meter will host its next meeting with Mr. Michael Holthouse, another one of Houston's successful entrepreneurs. The startup may be Houston's next social network IPO, generating another 1st generation of wealth for its entrepreneurs.
Social Meter is a Houston based social venture focused on facilitating meetings with influential executives in exchange for charitable donations.