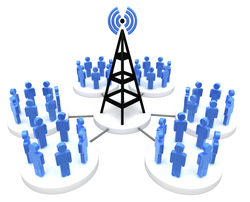 Any news about our company and products is blasted quite effectively by SocialNetGate without me having to spend a lot of time.
Corte Madera, CA (PRWEB) March 2, 2010
SocialNetGate serves a diverse group of businesses and individuals. The current customer base ranges from those that sell auto tires online to eye surgeons to virtual assistants. The service helps the customers in establishing social media presence and then promoting their brand using that presence.
On one hand, the service acts as a proactive brand name protector by performing registrations of profile names at social media and networking websites on behalf of the customers. On the other hand, it helps the customers in effectively leveraging social media without them having to spend long time using their social media profiles.
The process to get started and use the service is very simple. Sign up at http://www.socialnetgate.com/plans.php for one of the plans. Within days, you will start getting reports of registrations done for the given profile name which is often the name of the organization, brand or service. After a few days, the customer may start to submit messages into these networks using the SocialNetGate platform. Called as "Post & Blast" events, SocialNetGate receives the content from the customer, places it in the blog site and then makes it available to the social media profiles, including but not limited to Facebook fan page, Twitter and several others. The content does not need to be just text - it can be photo, video or audio. SocialNetGate makes submission of the content real simple. The customer is to send the content to a designated email address or submit it at the message center. It will be crafted and tagged as needed and then will be posted in the blog site and subsequently made available in the social media locations.
"In order for the social media to help my firm, I have to spend time. Lots of it. Every day. What SocialNetGate gives me is the gift of time. Any news about our company and products is blasted quite effectively by SocialNetGate without me having to spend a lot of time." says Larry Baker, Principal of Baysys Technology, a technology services firm in the financial services industry.
Starting March 2010, SocialNetGate offers a new plan for businesses that exclusively serve their local communities. Called "Lite", it makes use of the most popular social networks in addition to making sure the business is visible in local directory searches.
"We are also adding new features on the platform" informs Anton Prakash, founder of SocialNetGate. "Our message center is getting enhanced so the interaction between the customers and agents is efficient. We have also been rolling out tools to help customers leverage their contact information in their emails to get popularity for their social media profiles. Some of these tools are made available to everyone at our Tools page in the public website." Prakash adds.
Publishing content is made even more simpler with the "Content by Voicemail " and "Content by Text" features. For those customers that are too busy or on the road, publishing content into their social media profiles is just a phone call or text message away. Another addition to the site is the showcase where a customer's social media ecosystem, the collection of all the profiles in the social media websites, is visible in a single page.
Reggie Smith, Executive Director of HIV Anonymous is excited about the benefits of using the SocialNetGate service. "The SocialNetGate Team is for real!! They are certainly helping us with their work on posting to all blogs and social media." says Smith.
###