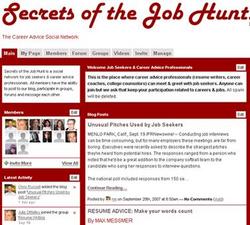 I see this as a hub where career advice professionals can really share and communicate their ideas with job seekers
Trumbull, CT (PRWEB) September 25, 2007
Career advice experts such as resume writers, career coaches and college counselors now have a place to congregate online and mingle with job seekers. Secrets of the Job Hunt Network is a social network whose purpose is to let job seekers and career advice professionals interact and give or get career advice.
The new site has a host of unique features including a main blog which all members can post to as well as discussion forums, videos on job hunting and the ability to create groups according to specific interests. There is no cost to join.
Chris Russell, a veteran job search blogger, launched the site to try and bring job seekers and the people who advise them closer together. "I see this as a hub where career advice professionals can really share and communicate their ideas with job seekers", says Russell.
Job seekers can ask questions from members such as Jason Alba, CEO of JibberJobber, Alison Doyle, About.com's Job Search Guide and Heather Mundell of Dream Big Coaching. New career experts are joining daily. For them, the new network offers a place to promote their services, publish advice and make a name for themselves.
Russell adds, "Many career experts don't have their own web site so the Secrets of the Job Hunt Network can help them promote, share and learn." Each member of the site gets their own personalized page which can be customized to their liking with text, videos, pictures and RSS feeds.
http://www.secretsofthejobhunt.com
###