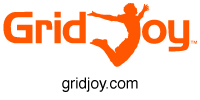 The Only Social Network Owned by its Users - with Complete Privacy
Philadelphia, PA (PRWEB) October 20, 2011
When Bob Ilis decided he was annoyed and disappointed with the way his social network was treating him, he knew there had to be a better way, only it didn't exist...yet. Ilis wanted privacy, to have a stake in a network he was making so valuable, and wanted to be heard. Ilis found that others felt the same, so he built the solution now known as GridJoy.com, a free social networking site that will be owned by its users and will fully launch in November 2011.
The pre-registration phase of the launch began on September 22, 2011 and users are already registering to be some of the first to own, explore and use the new site upon launch. To pre-register, users are instructed to find an invite link from a friend (GridJoy is by "invite only"), on Twitter, Facebook or through blog posts - or they can use the link right here: http://bit.ly/JoinGJ, and submit their information. Once pre-registration is completed, users can invite all their friends using their own referral link. For every referral, the user receives GridJoy tokens and chances to win an iPad2. Invites are limited, so users are encouraged to sign up now!
Upon launch, a user will have the opportunity to create a customized profile and can choose what to share with others. The GridJoy privacy policy isn't obscure or hidden. It's simple. GridJoy values privacy and will never share information without a user knowingly allowing controlled information to be available. No tricks.
Once a profile is created, users can interact with their friends and use the awesome capabilities - file sharing, video chat, unlimited storage, unlimited email, one-click access to their other profiles, and everything users want to do on the Internet. These capabilities will continue to evolve based on user feedback.
GridJoy is set to launch in November 2011 and is building a community through other social networking sites to help educate users and exchange ideas (Facebook and Twitter). For more information check out our YouTube video or please contact Jen Cohen at jcohen(at)somethingcreativemarketing(dot)com or +1.609.870.0795.
About GridJoy
GridJoy is the only social network owned by its users. GridJoy will continue providing an ultimate online experience that suits users' needs. GridJoy will always keep privacy a priority, and only make changes with a purpose and positive effect on the user. Our network will keep growing and increasing value, and the Grid will continue to be a joyful experience.
###