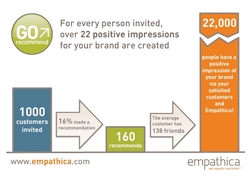 GoRecommend engages customers for an interactive brand experience
Toronto, Ontario, Canada (PRWEB) September 29, 2009
Empathica Inc.,a leading provider of Customer Experience Management (CEM) solutions to the world's most respected brands, today announced its new brand recommendation application, GoRecommend. The solution automatically drives retail location traffic by turning excellent customer experiences into a powerful marketing tool through social media. By using GoRecommend, leading U.S. companies have already seen more than 5,000 positive brand impressions generated daily.
GoRecommend is cost-effective and very easy to deploy, using an automated referral process that takes little to no effort from the brand itself. After customers complete a retail experience survey, the GoRecommend engine prompts those who were happy with their experience to make an online recommendation on Facebook.
The results directly translate into significant positive brand impressions, as the location-specific content will automatically appear on both a brand's Facebook fan page and a user's profile page.
"GoRecommend engages customers for an interactive brand experience," said Andrew Datars, VP of Product Management with Empathica. "It's a true turnkey social networking solution that helps foster brand awareness by encouraging customers who love the brand to make a recommendation. It's an automatic way the brand can have sincere, fresh and relevant content on their site that participating customers find fun and rewarding."
Red Robin Gourmet Burgers, Inc. a casual dining restaurant chain that specializes in gourmet hamburgers, recently launched GoRecommend for its more than 300 company-owned restaurants. Since then, the Empathica tool reports that Red Robin has received more than 1,500 recommendations on Facebook from satisfied Red Robin customers, all generated from the GoRecommend application.
Datars said the GoRecommend application is so successful because customers like to be engaged with the brand.
"GoRecommend is helping companies take full advantage of satisfied customers' willingness to recommend their favorite brands, without having to invest a lot of time, effort or money," said Datars. "This solution is more effective than traditional marketing techniques because people trust and value their friends' recommendations. This leads to increased traffic and greater interest in the brand."
About Empathica:
Empathica provides Customer Experience Management programs to more than 200 of the world's leading brands, ranging from multi-unit retailers, to banks and restaurants. Its rich analysis of survey data using state-of-the-art surveying and dashboard reporting software allows for performance-improvement solutions, evidence-based marketing insights, and customer experience management consulting. Annually, Empathica's 30 million customer surveys in 17 languages reach more than 70,000 locations. A privately-held organization, Empathica is headquartered in Mississauga, Ontario, Canada and also has offices in Birmingham, England and Alpharetta, GA, in the United States. For more information about deriving actionable insights that enhance a brand's operational excellence, visit Empathica at http://www.empathica.com.
Contact:
Lauren Eichmann
Phone: 312.265.3089
###