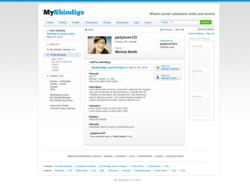 The objective of MyShindigs.com is to break down old barriers to socialization
Boston, MA (PRWEB) February 29, 2012
Sitting at home bored? There is a party happening at MyShindigs.com. MyShindigs is a party and event sharing platform like no other. What is unique and different about this social media website is that users may actively search out and invite themselves into other user's publicly listed parties and events. The next generation of social networking has clearly begun to take shape as cutting edge websites such as MyShindigs.com actually bring people closer together for real life experiences and interaction in the real world.
'Like the Pet Shop Boys song Being Boring the idea for the site conceived back in 2009 was to never be bored by building a social utility that allowed users to share parties and aspects of their social lives with those who were like-minded' Says Matthew Tautt, Co-founder. The recently launched website is garnering much acclaim and is the only one of its kind that allows members to specifically follow the party and event invites of their friends or people and companies of interest. Members can subscribe to and follow the social activities of those that interest them and receive alerts as long as the parties and events are marked public. Direct invitations need to be received for private parties.
'People often say they are bored, which is a puzzling comment. Feeling impatient or dissatisfied due to lack of interest in something or because one has nothing to do are feelings that MyShindigs strives to overcome' says Jason Andrews, Co-founder. This is what led the company founders to develop the Shindig Calendar, the center of activity for users on the website. All accepted parties show up in a member's Shindig Calendar and the premise is to fill and better organize their social agenda. Everyone needs downtime and time to relax, but feelings of boredom would now be replaced with words like contentment.
MyShindigs also has many interesting event facilitation features. For instance, concerned friends may even throw matchmaking parties for their single acquaintances and invite those they think would be suitable candidates. 'We've tried to lay the groundwork for something interesting and different; allowing users to use their imagination in terms of how they would like to use the platform and interact with one another' Says Matthew.
The website also bypasses many of the problems and criticisms of mixing your social and work lives together by giving users the choice of either using their real names or creating a 'MyShindig' identity along with other special features.
'We have always enjoyed meeting new people, fostering friendships new and old, expanding our horizons so to speak. One summer we continued to wonder how much more exciting life would be if we could go online and in place of going to the same social scenes and venues that we could invite ourselves into the parties and events of others' Says Jason. 'This formed the basis to help people create their own adventures in life and to have as many social options as possible', Says Matthew. 'We wanted to use the available online technology and the cyber world to get people off their couches and into a more open and interactive real world' adds Jason.
Members have been throwing parties, known as 'Shindigs' at clubs, bars, and other venues in order to meet others with similar interests and expand their social calendars. Adults young and old are utilizing the social networking website to socialize and interact with others. 'I wish MyShindigs was around when I was in College. It would have made my school days much more exciting' says Luciano Balduzzi a young corporate lawyer who is an avid fan of the site. The good news for users such as Luciano is that the charismatic entrepreneurs promise that the most exciting features are yet to come.
Jason and Matthew want people to use the website to socialize and extract the most value out of life in order to achieve a healthier balance without spending every minute of every day on the computer. This is achieved by bringing party hosts whether private individuals, public entities or companies, venue owners and service providers and those looking to attend such events together, one event at a time. The objective for the founders is to break down old barriers to socialization and enforce the ideals of community and togetherness. It is with this in mind that these Kings of Leisure hope to make boredom a thing of the past.
About MyShindigs
MyShindigs is a social networking platform that specializes in allowing members to plan, organize, manage and promote their public, private and company events and parties. MyShindigs allows users to search out, share, follow and join each other's events and parties of interest to expand their social calendar throughout their lives. For more information, visit http://www.myshindigs.com.
# # #