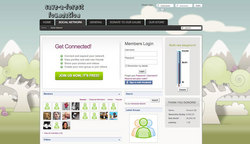 Social fundraising has changed the landscape on how non-profits, churches and schools raise funds.
Chicago, IL (PRWEB) September 8, 2010
As the economic downturn has created a challenging atmosphere for traditional fundraising, innovative non-profits and faith-based organizations have turned to a new method to fund their organizations. This new concept – called "social fundraising" - provides an affordable and effective way to raise funds online.
Social fundraising takes advantage of the ever-growing popularity of online social networking and combines the allure of this instantaneous collaboration ("mingling") with online fundraising (think "Facebook" popularity meets traditional door-to-door cookie sales!). The concept, already proving highly effective for everyone from small-town churches to large Haiti-relief organizations, allows organizations to continually keep their donors abreast of where their donations are going and, at the same time, foster a viral vibe to a common cause.
Non-profits can start an online fundraising campaign, post updates, images and video regarding the progress of the campaign. Donors and potential donors can become a member of the organization's social fundraising network and become engaged on the progress.
SocialRaise, a Chicago-based technology company that implements social fundraising solutions to non-profits, churches, schools and universities, summarized the recent effectiveness of the concept. Explaining that socially networked donors are more likely to give more to the cause and recommend it to their friends, SocialRaise's Kevin LaManna noted, "Social fundraising has changed the landscape of how non-profits, churches and schools raise funds. We're thrilled to see how social fundraising has enabled non-profits to truly make a larger impact and to double or triple their fundraising. The results have been astonishing."
Indeed, the web-based concept increases repeat donations, tightens communication, and provides more transparency into a campaign. SocialRaise noted that every organization they've worked with has dramatically improved their fundraising by using their social fundraising platform. LaManna states "Our goal is to bring social fundraising to all 195 countries in the world. We want to be the Tom's Shoes of the technology world", referring to the socially-responsible company that donates a pair of shoes to a child in need for every pair sold.
Beyond the basic and most obvious advantages of making donations instantaneously, with a credit card and within a circle of fellow supporters, a social fundraising platform also gives organizations an ability to build revenue via online advertising, automated recurring donations or by selling digital content such as e-books.
Even with a healing economy, it's evident that the fundraising landscape is changing rapidly and non-profits should investigate social fundraising options to improve their revenue generation and grow a traceable, committed constituency.
For more information on social fundraising and SocialRaise, please visit http://www.socialraise.com
About
SocialRaise is a Chicago-based technology company, and is a provider of a social fundraising platform for non-profits, schools, universities and faith-based organizations. SocialRaise combines social networking with online fundraising and advertising to boost funds and revenues for organizations. To learn more, please visit http://www.socialraise.com
Press contact
Kevin LaManna
Kevin(at)socialraise(dot)com
(312) 623-3303
###