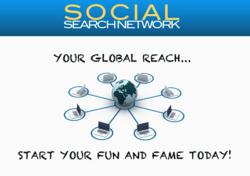 "Social Search Network's goals are to be the best social networking place for publicity and news for Internet movements and for the success, power, fun, fame and fortune in our member's careers and lives."--Stan Zipperman, founder
San Francisco, CA & Hollywood, CA (PRWEB) March 06, 2012
World's first brand new "language-friendly" Google Translate, "career-friendly" and "publicity-friendly" social networking website in 2012, Social Search Network, has finally arrived on the web scene online to challenge Facebook, Google +, YouTube, Twitter, LinkedIn and Myspace plus other top-ranked most popular social network sites and social media platforms involved in social Internet movements rocking the globe, says Stan Zipperman, international marketing and public relations consultant and SSN founder and director.
Social Search Network is now on the net live to empower Internet people how to use the site's big-time "top success secrets" from John Griswald's Hollywood manifesto revelations to get free publicity to market their name, face, news, videos, photos, posts and messages to dynamic international social Internet movements. Social Search Network also helps members and sponsors to find and map out logical and realistic ways to further gain new personal and professional social success, power, fun, fame, fortune, career goals and other big things in their lives.
First of all, Social Search Network shares "language-friendly" Google Translate with people right on its home page, therefore providing them the latest in the evolution of interactive tools that help make SSN the best place to reach and contact an important segment of the more than 2 billion plus people using the net in over 50 high-traffic foreign languages including English, Spanish, Chinese, Japanese, Portuguese, Russian, French, German, Italian, Korean and Arabic; which are the most popular and heavily visited. With the ripple effects generated from Internet publicity, many completely unknown people have become world-famous people overnight. It is worth noting that over the years Hollywood-oriented publicity has in fact produced the "most world-famous names" than any other city by far!
And by using Social Search Network's powerful Hollywood publicity-making insiders top success secrets and the revelations of "Social Networking Yourself" together, members' career goals and projects are put right on target. Social Search Network incorporates more "publicity-friendly" and "career-friendly" networking functions and tools on site.
To further arm its members for success, SSN has secured world-wide rights to John Griswald's amazing manifesto "Hollywood Guerrilla Publicity: Insiders Top Success Secrets For Power, Fame and Fortune," which is now the guide and inspiration for the site's motto and mantra: "Social Networking Yourself."
Social Search Network is functioning to be easy to use and navigate in a streamlined, straight-forward mode so members and social marketers alike can effortlessly and interactively spread the news and publicity stories about themselves, their profiles, services, skills, career, achievements, brands, products, projects, business, messages, agendas, functions, events, company, organization, institution or social movements, including all the latest high-impact "occupy" activities and like-themed happenings taking-off across the globe.
Social Search Network's purpose and goal as stated in its website pages, although the site is in its initial beta version, is to fight for the protection of the Internet and to "Keep Internet Free." In that respect, http://www.keepinternetfree.org, a brand-new website currently in the development stages, will also further pursue those same necessary endeavors.
In any event, Social Search Network seeks to keep the Internet totally free from intervention, interference or censorship from any government. And at the same time, SSN also endeavors to become a leading new supporter of worldwide social Internet movements on a grand and powerful high-quality scale. In that regard, SSN strongly supports Facebook CEO Mark Zuckerberg's overall stance and statements on the Internet that was published in his letter to Facebook stockholders.
Social Search Network's added mission, however, is clearly to provide help, inspiration, motivation and positive energy to ambitious and serious social-active people to keep them in touch with friends, family and industry associates and also to find other social-oriented, like-minded and like-spirited persons to develop new special close relationships with and who are also ready to share their own real-life personal passions, projects, missions, interests, ideas, information, causes, opinions, messages, experiences, adventures and even their wildest dreams or worst nightmares.
According to Zipperman, "It's all about becoming connected with the social groundbreaking "Social Active Who." They are definitely dedicated people who are openly involved in social networking life, career networking life and intellectual or elitist issues, causes and other social media functions and scenes.
"Social Active Who" people not only take to the streets for protests, marches, strikes, parades, picketing, rioting or occupying, but may also be professional people involved with videos, movies and television productions and trends; active in photos, pictures, paintings or images innovations; fiction and non-fiction pursuits, the latest news and events; and the ever-evolving music and concert scene. These individuals are truly the new Renaissance generation's front row center global movers and shakers who are busy building their social success, status, standing and spirit!"
Zipperman concluded, "But the great news is that people are provided a potent new level of momentum with special unlimited career and job opportunities in the world marketplace spotlight by linking to Social Search Network from their other web pages they may already be sharing with friends on Facebook, Google+, YouTube, Twitter, LinkedIn, Myspace, orkut, deviantART, LiveJournal, Ning, Tagged, Pinterest, Qzone, v-kontakte, Cyworld, XING, mixi and other popular social media platforms, websites or blogs. In other words, with the global reach of Google Translate at their fingertips, Social Search Network is tapping its members into an amazing, relevant and gigantic segment of the earth's 2 billion plus people using the Internet." http://www.socialsearchnetwork.com
Members of the Press and News Media who seek an exclusive interview should email requests to: stanzipperman(at)gmail(dot)com.