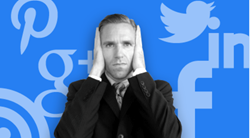 77 percent of consumers surveyed for the study are more likely to purchase products or services from a company if the CEO uses social media.
Fort Lee, NJ (PRWEB) August 09, 2013
When it comes to social media, one of the least active demographics is top-level CEOs. This may not be surprising to most, knowing that CEOs are very busy people with little time for distractions like social networking; in fact, a new study released August 3, 2013 by CEO.com finds that less than one-third of Fortune 500 CEOs have any type of social networking account. But of those CEOs who have affiliated themselves with social media, 32 percent have hooked up with LinkedIn. In the newest blog from Marble Media LLC's SocialTechNews.com blog site dated August 7, 2013 and titled, "LinkedIn Taps the Toughest Social Media Demographic: CEOs," guest blogger Liz Ernst looks at the study's findings and what they say about the online acuity of the business world's chief operating officers.
Titled "The 2013 Social CEO Report Are America's Top CEOs Getting More Social?" the CEO.com study states that CEOs are often highly motivated and driven to succeed at any cost, and seldom allow themselves to be distracted. Social networking is a distraction that simply doesn't work for many over-achievers.
"The study tells us that less that one-third of Fortune 500 CEOs actively take part in social media, but of those who do, LinkedIn is their favorite choice," Ernst says. "Some 27.9%, or 140 CEOs, have LinkedIn accounts, up from 25.9 percent (130) in 2012.
"LinkedIn is more popular with CEOs than with the general public."
When it comes to other social media sites, Facebook is the second most popular among CEOs, with 7.6 percent of their share, followed by Twitter with a mere 5.6 percent, according to the study.
The general public as a rule prefers the more chatty sites including Facebook and Twitter, while career-driven CEOs prefer business-minded media. Some CEOs have been encouraged to try and tap into the social media sites like Facebook, Twitter, Google+ and others to gain followers, and it seems surprising that more CEOs haven't done so. Previous studies have found that CEOs who tweet are actually helping their brands image. In fact, 77 percent of consumers surveyed for the study are more likely to purchase products or services from a company if the CEO uses social media, according to the study.
Additional findings on Fortune 500 CEO social networking behavior include:

70 percent of CEOs have no presence on social networks
Of the 20 Fortune 500 CEOs who have established Twitter accounts, five have never tweeted
The average number of followers fot Fortune 500 CEOs with Twitter accounts is 33,250.
10 Fortune 500 CEOs have more than 500 Linkedin connections, while 36 CEOs have one or no connections.
John Mackey of Whole Foods is the only one of six Fortune 500 CEOs who maintains his own blog.
No Fortune 500 CEOs have signed on with Pinterest.
For more information on social media's influence on foods and beverages, visit the SocialTechNews.com website or email info(at)socialtechnews(dot)com.
About Marble Media LLC:
Marble Media LLC is a creator of high-quality, content-rich blog sites that provide expansive coverage of relevant information to readers who make up a wide range of demographics. The Marble Media LLC team of expert writers covers a wide range of specialties including travel, food, health, fitness, social media, marriage, parenting, technology, weight loss, fashion and much more.
For more information on Marble Media LLC's offerings and advertising opportunities, visit the MarbleMediaLLC.com website, or email sales(at)marblemedia(dot)com.