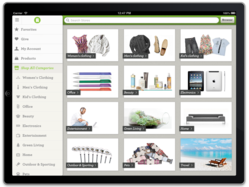 "We're looking to make it as easy as possible for you to support your favorite causes while doing what you do already – shop," said Adam Ross, founder and CEO at Socialvest.
Atlanta, GA (PRWEB) December 11, 2012
With e-commerce expanding from the desktop to tablet-based purchases and micro-philanthropy on the rise, Socialvest (http://www.socialvest.us), the leading cause-based shopping platform, which has been growing at a rate of 200-300% month over month, has extended its presence from the desktop to the iPad with the launch of the Socialvest iPad application. The app, available now in the iTunes app store, lets users shop with their favorite retailers through their iPads and receive money back from each purchase, at no cost to them, which can be donated to over 1.5M nonprofits directly from the phone.
Anyone can download the iPad app, which is free, and immediately shop hundreds of stores within the Socialvest network. While shopping, users will see what percentage of spend each retailer is willing to give back. After making a purchase, the user is alerted via email from Socialvest that a deposit has been made to the member's Socialvest account. Directly from the iPad, users can then donate money to the cause of their choice.
Primary features of the app include the ability to:

Shop 700+ stores including the nations biggest retailers and boutique etailers
Share your purchases and donations with friends via Facebook
Search thousands of products by name or category
Find the best deals and give back percentages by UPC codes using the Socialvest barcode scanner
Easy access to retailers offering in store pick-up
Save time by creating favorite retailer lists
Give to any of the 1.5M causes from your Socialvest account anywhere, anytime, in any amount
Future versions of the Socialvest iPad application will include tools for shopping lists and cross-platform integration.
The iPad continues its dominance in web traffic on e-commerce sites, commanding an impressive 88.94 percent of all tablet visits, according to Monetate an e-commerce solutions provider. Meanwhile, micro-philanthropy is also a fast growing market. Defined as smaller payments to noteworthy causes and exemplified by services such as Kiva and MicroPlace, micro-philanthropy uses technology to revolutionize giving, linking giver and receiver to enact change.
"We're looking to make it as easy as possible for you to support your favorite causes while doing what you do already – shop," said Adam Ross, founder and CEO at Socialvest. "The introduction of the iPad application makes shopping for the causes you care about even easier, and extends the possibilities of where you can shop and give: online, on your phone and on the iPad."
The app is available for download at the app store
About Socialvest
Socialvest is the fastest-growing cause-based online and offline shopping platform that benefits worthy non-profit organizations. With hundreds of top retailers from which to choose, U.S. shoppers can earn money to bank and donate to any combination of the more than 1.5 million registered non-profit organizations in the Socialvest network, at any time and at no additional cost to the consumer. Socialvest users earn money through http://www.Socialvest.us, shopping with participating retailers online, through the Socialvest browser applications, the iPhone application and the iPad application. Socialvest offers an opportunity to turn everyday shopping into extraordinary change by creating an easy fundraising channel for important causes close to home and around the world. Socialvest is a VC-funded social good service founded by social entrepreneur Adam Ross.
# # #
MEDIA CONTACT
Julia Lavine
Socialvest
(404) 254-0438
julia(at)socialvest(dot)us