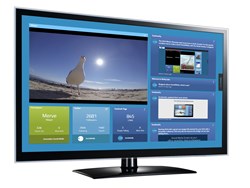 "We use SocialWally on a mega, multiple screen, video wall at events to help our visitors join the conversation. It's a unique and innovative way to engage visitors with Vasco Data security."
Amsterdam, The Netherlands (PRWEB) February 07, 2014
It has been proven that photos and videos draw the most engagement on social media. Now, social media technology company WallyLabs, based in The Netherlands, is hoping that bringing those visuals on-site to offices, shops, events, etc., will get customers, potential customers and employees excited about social media.
Businesses and organizations can now display their Vimeo videos on a social media wall along with their messages and engagement from other social media platforms such as Facebook and Twitter. Vimeo is the latest addition to SocialWally, online software that allows offices, shops, events and other organizations to put their social media on display for guests and employees on a high-definition screen.
SocialWally, an effective way to involve employees, customers and other stakeholders in online activities, is easy to set up, requiring only four steps – customize, edit content, preview and publish – and a few minutes. The software also allows businesses and organizations to display social media messages, photos, videos, number of likes, follows, and check-ins, from Twitter, LinkedIn, Instagram, Tumblr, Klout, Foursquare, YouTube, Pinterest, Flickr, SlideShare, Livestream and RSS.
Vimeo is an attractive online video platform for many businesses because there is no intrusive advertising before, during or after videos. According to the company it streamed 4.9 billion videos in 2013 alone. Vimeo is the third video app to become compatible with SocialWally, after YouTube and Livestream.
"Instead of hiring expensive social media agencies, companies can now enjoy the simpleness of building their own social media wall within minutes. The wide range of social media apps and accessibility of the tool makes SocialWally absolutely unique," said Diederik Chevalier, founder of SocialWally.
Users can customize the look of their social media wall by choosing background and header bar colors and adding their own logo. In addition, they can choose how much space each social media stream takes up on their wall.
For the best presentation, a high-definition screen with 1920 x 1280 pixels or larger, or Google TV, is recommended. Users also need a PC or Mac computer running Google Chrome.
Kurt Cosijns, marketing communications manager at Vasco Data Security, which uses SocialWally during events, said the technology helps engage visitors.
"We use SocialWally on a mega, multiple screen, video wall at events to help our visitors join the conversation. It's a unique and innovative way to engage visitors with Vasco Data security," said Cosijns.
Shell, Global group of energy and petrochemical, has implemented SocialWally to get employees excited about social media.
"SocialWally is a great, flexible tool to design your own social media screen. Since we started using SocialWally in the office, Shell social media is not only seen by our online marketeers but by all of our employees," said Maarten Semeijn.
SocialWally provides a 30-day free trial. After that, SocialWally Single, which provides a dashboard and unlimited apps, costs $29 per month. Brands and organizations that require up to five dashboards and additional features, such as showing multiple screens that alternate, can sign up for SocialWally Multi, at a price of $99 monthly.
About WallyLabs
SocialWally is a product of Internet startup WallyLabs. WallyLabs began with the development of SocialWally. Soon after, SalesWally and SupportWally were introduced to help businesses improve customer service and inspire sales teams by displaying ticket counts, sales results and customer satisfaction on HD screens. The Dutch developers are highly reputable in the field of smart online tools. Michiel Chevalier is founder of cloud human resources and payroll software company Nmbrs. Luis Abreu is currently COO of Nmbrs and the founder of Grappster, a real-time information dashboard for cloud apps. Michiel's brother, Diederik Chevalier, is a specialist in social media. Their ultimate goal is to share your social media messages and engagement metrics with a broad audience to increase offline involvement.
For more information on SocialWally, visit http://www.socialwally.com. SocialWally is also on Facebook at https://www.facebook.com/Socialwally and on Twitter at https://twitter.com/SocialWally. Visit http://www.saleswally.com for more information on SalesWally, and http://www.supportwally.com for additional information on SupportWally.
Contact:
Marieke Strootman
Willem de Zwijgerlaan 352 A/2
1055 RD Amsterdam
The Netherlands
+31 10 341 90 74
marieke(at)wallylabs(dot)com
More information and images: https://www.dropbox.com/sh/pd5mhinkpmabrot/wWYNNATqE3.