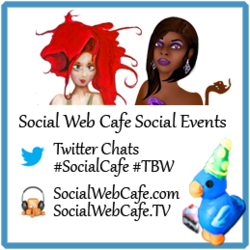 "This twitter chat is like 'group coaching,' benefiting from diversified perspectives and real life success stories… and it is free."
- Deborah, Social Web Cafe
Los Angeles, CA (PRWEB) February 15, 2013
This particular twitter chat is for bloggers, vloggers, entrepreneurs, solopreneurs, and anyone interested in learning how to get social. Deborah and Da Vinci will be discussing blogging, social media, branding, S.E.O, resources, and more.
For ease of twitter chat, the suggestion is to use TweetGrid: http://sw.bcafe.co/grid
This twitter chat session is in a continued effort to get social and it also leads up to the launch of Social Web Cafe TV in April.
ABOUT SOCIAL WEB CAFÉ:
Social Web Cafe (SocialWebCafe.com), started by Deborah Anderson, provides information and resources on social media, branding, marketing, and social events. Deborah's passion is people. Out of this passion, the concept of Social Web Café TV was born, and Da Vinci, from The Blog Workshop, with similar passions, was asked to join as co-host of the show. The blog and web show present social event opportunities for bloggers and entrepreneurs to learn about their craft and get social at the same time. Learning, growing, networking, "because the web should be fun...and social." You can follow Social Web Café on Twitter @SocialWebCafe.
ABOUT THE BLOG WORKSHOP: The Blog Workshop's mission is to provide bloggers and vloggers information that will allow them to take their blogging/vlogging ventures to the next level. The Blog Workshop is being held on a virtual platform that can be accessed from anywhere. Beginning May 17-19, 2013, centered online, there will be 6 sessions over a 3-day period discussing blog design, the business of blogging, monetization, advertising, working with public relations and more. The Blog Workshop will be the place "Where Blogging Meets Business." Founded by Da Vinci of YourLifeAfter25.com (YLA25.com). Please visit The Blog Workshop on Twitter: @TheBlogWorkshop and #TBW.