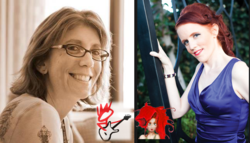 "We're here to support, promote, and empower our members. We do that at events, conferences, and social media. Come hang out with us and we will answer questions about women and music." -Madalyn Sklar
Los Angeles, CA (PRWEB) February 16, 2013
Madalyn Sklar, founder of GoGirlsMusic.com, the oldest and largest online community of indie women musicians, will be speaking at the Indie Connect Virtual Music Conference February 26-28, 2013. Madalyn is also a social media maven and will be sharing some of her social media knowledge in her presentation called, "Expanding Your Social Media Presence."
This Indie Connect conference is the first music conference to be held entirely online, virtually, complete with exhibitor booths, artist showcases, presentation hall, videos, brochures, and networking with fellow attendees and exhibitors.
Madalyn's presentation is in the form of a Q&A conversation with Social Web Cafe founder, Deborah Anderson, who is also a GoGirl (Stage Name: Deborah E, Jazz, Los Angeles, deborah.info).
Madalyn will be available to answer questions, during the conference, in the GoGirlsMusic.com virtual booth. She will be available via the group chat as well as face-to-face video chat, on a first-come-first-served basis.
ABOUT SOCIAL WEB CAFÉ:
Social Web Cafe (SocialWebCafe.com), started by Deborah Anderson, provides information and resources on social media, branding, marketing, and social events. Deborah's passion is people. Out of this passion, the concept of Social Web Café TV was born, and Da Vinci, from The Blog Workshop, with similar passions, was asked to join as co-host of the show. The blog and web show present social event opportunities for bloggers and entrepreneurs to learn about their craft and get social at the same time. Learning, growing, networking, "because the web should be fun...and social." You can connect with Social Web Café on Twitter @SocialWebCafe.
ABOUT GOGIRLSMUSIC.COM:
GoGirlsMusic.com, founded 17 years ago by Madalyn Sklar, is the oldest online community of female musicians. Their motto is "cuz chicks rock," and the goal is to support, promote, and empower female musicians. The organization also has an elite membership of professional female musicians called Go Girls Elite, allowing access to membership benefits, music service discounts, and additional networking. Every Thursday night at 9p EST, GoGirlsMusic.com connects with the music community on Twitter with the hashtag #ggchat. You can connect with GoGirlsMusic.com on Twitter @GoGirlsMusic.