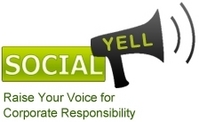 SocialYell is unique because it enables users not only to choose the best companies, but also to determine the best sources and influencers to help them make those decisions
New York, NY (Vocus) June 24, 2010
SocialYell.com has launched an innovative platform enabling conversations about every company's social responsibility efforts all in one place. This new platform brings together consumers, employees and companies to help them make better decisions.
Previously, consumers and stakeholders were either unaware or had to search all over for articles, press releases and ratings on corporate responsibility. Even then, stakeholders had no way to establish if the source was credible and there was no peer review. Now, any article, rating, report or opinion about a company or brand can be easily evaluated on a level playing field on SocialYell.com.
"SocialYell is unique because it enables users not only to choose the best companies, but also to determine the best sources and influencers to help them make those decisions" said SocialYell.com founder, David Rostan.
A great advantage of SocialYell.com is how it brings together all stakeholders and influencers.

Journalists can use SocialYell for research and to distribute investigative pieces about companies and social responsibility
Active consumers can discuss companies and sources and share them with friends, parents or social networks to help them make better purchase decisions, too
General consumers can search by company or topic that is important to them and use ratings to make comparisons and purchase decisions
Companies can have a dialogue with consumers or listen to employees and get real-time feedback on corporate responsibility issues and initiatives
Data providers can partner with SocialYell.com to add their scores or ratings to the conversation
Engaging in conversations about corporate social responsibility, or CSR, is more important than ever as a rapidly increasing number of people become interested in finding companies that:

have healthy and safe products
are honest and respectful to employees, vendors and customers
share the goal of leaving behind a better world for our future generations.
Rostan summarized "socially responsible and sustainable companies are important to mainstream consumers now – people who are concerned about their family's health, people who want local jobs, people who believe companies should be fair, people who like the outdoors and people who want a more stable energy source. As this 360-degree evaluation of corporate responsibility grows at a mass level, companies and consumers can turn to SocialYell.com to help."
About SocialYell.com
SocialYell.com is a social networking community that connects customers, stakeholders and companies in conversations to learn, influence and make better decisions.
SocialYell.com is your complete source to find cleaner, smarter, healthier, more ethical companies you can trust. Easy-to-use scoring and ratings make it a snap to find the credible company information you want fast.
SocialYell.com is a unique, customizable platform that helps companies create social responsibility initiatives and communicate their story and news in a forum where the conversation is already happening organically. SocialYell.com provides rich information and direct feedback to evaluate and improve these initiatives and stakeholder engagement making it a vital part of a company's CSR strategy.
Find out more on http://www.socialyell.com
and watch the SocialYell video
###