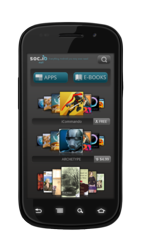 The mall will be launched with more than 7.000 apps and 37.000 e-books.
(PRWEB) May 11, 2011
Seavus Group today announces the launch of Soc.io Mall, the first ever Android shopping mall, which will offer more than just Android apps.
Soc.io Mall answers the need for an all-encompassing shopping place that will allow Android users to have easier access to various contents such as apps, games, e-books, audio books, music and more. Every user will have the opportunity to get what one needs from the many shops present under one roof. This revolutionary solution will also offer other businesses the opportunity to open their own branded Android stores in the Mall.
"This is a major step and endeavor for Seavus Group and we are all excited that we expanded the app store model to new horizons", says Igor Lestar, Seavus Group CEO. "The mall will be launched with more than 7.000 apps and 37.000 e-books. It will shortly be enhanced with games, audio books and music. Our focus is on quality rather than quantity. Soc.io Mall is all about creating a unique shopping experience as well as a place for other businesses to place and promote their content", he adds.
Seavus Group believes the creativity of the community of thousands of developers and content creators should be highly rewarded. As a result, Soc.io Mall offers the developers the best revenue share in the industry, 80/20, and no registration and submission fees. Moreover, they will have the opportunity to sell their content all over the world.
About Seavus
Seavus Group is a software consulting and development company founded in 1999 in Malmoe (Sweden). Today, Seavus Group has over 500 employees dedicated to provide customers with premium services and products. Seavus Group has 5 more offices around the world including USA, Macedonia, Belarus, Latvia and Serbia.
The customer portfolio includes organizations such as: IBM, Tele2, Michelin, Allianz, Bayer, NASA, Samsung, Volvo, BP, Chevron, BMW, SAP, Lloyd's, Renault, Yamaha, Honda, Lockheed Martin, NATO, DuPont, Fuji, Revlon, Tetra Pak, Toshiba, Sony as well as hundreds of other organizations that have trusted Seavus with their business requirements.
###