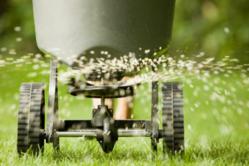 We want to put grass care into an easy to understand package, and often video is the best way to do that. The benefits of (proper lawn care) are not only aesthetic, but environmentally sound. The healthier a lawn is, the less inputs it will need.
Charleston, SC (PRWEB) April 02, 2013
Sod Solutions has released its latest group of turf grass seasonal maintenance videos for homeowners in time for the spring. The video series is geared toward homeowners who may be reluctant to attempt lawn care outside of mowing because they don't believe that they have the proper knowledge.
"We want to put grass care into an easy to understand package and often video is the best medium to do that," said Justin Wallace, Sod Solutions' director of communication. "We all want great looking lawns and know how important it is for it to be healthy as well. The benefits are not only aesthetic but environmentally sound. The healthier a lawn is, the less inputs it will need."
This spring's release includes videos for bermudagrass, zoysiagrass and St. Augustine varieties. More turf grass sod types will be added in the future. The videos can be viewed on Sod Solutions "Turf Talk" blog or people can go to the website and sign up to have the videos sent via email. They are released by the season, but occasionally there will be others created if there is an alert that people need to know about such as a turf disease outbreak in a particular region.
Links to the individual videos are below:
Zoysia Maintenance Video Spring 2013
St. Augustine Maintenance Video Spring 2013
Bermuda Maintenance Video Spring 2013
Wallace believes that when it comes to turf grass care, videos offer the best opportunity for explaining tricky lawn issues and says he will continue to broaden their scope.
"Obviously the videos are to an extent generic and have to be because they cover a wide range of the country with many different soils and climates. We always recommend a homeowner consult with local extension agents and experts," Wallace added. "But if someone watches this and realizes that's it not that hard to have a beautiful, healthy lawn then we have done our job."
Visit sodsolutions.com to view or sign up for these videos or to compare different turfgrass varieties with the Turfgrass Selector, which helps find the right grass for a particular landscape.
About Sod Solutions
Sod Solutions, Inc. is an international turfgrass research, development and marketing company incorporated in the early '90s. The company's primary research facility and headquarters is located near Charleston, S.C. Sod Solutions has released Palmetto® St. Augustine, EMPIRE Turf ® Zoysia, Celebration® Bermudagrass, Sapphire® St. Augustine, Captiva® St. Augustine, Bella® Bluegrass, Discovery™ Bermudagrass, Santee™ Centipede, Covington™ Centipede, Regenerating Perennial Ryegrass®, Geo™ Zoysia, NorthBridge™ Bermudagrass, Latitude 36™ Bermudagrass, HGT™ – Healthy Grass Technology™ and Sunday™ Bermudagrass. For more information, visit our website or call 843-284-2347.