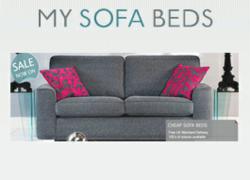 We're basing the 21 new three seater sofa bed models on our contemporary two-seat range and expect to see favourable results in terms of increased orders thanks to the boost in our online selection
London (PRWEB UK) 23 November 2011
UK-based My Sofa Beds is set to launch a new range of 21 sofa bed models in 2012, significantly bolstering the existing selection of three seater models available through its online store. The new range of three seat sofa beds is based on a number of two-seater models currently available to purchase, including the popular Natalie, Brian and Geneva sofa beds.
The 21 new additions to the My Sofa Bed range will include optional bolt-on arms and a choice of up to around 70 upholstered and faux leather sofa beds fabric options for both the bed and any additional scatter cushions. The fabric selection will include the much-favoured Conway fabric range, which consists of a11 colours of luxuriously soft and thick corded patterned chenille.
My Sofa Beds Sales Manager James Welch explains the decision to expand the three seater sofa range so substantially,
"Many of our two seater sofa beds have been available to purchase online for a considerable amount of time. It seems that two seater sofa beds are a popular option with our customers, partly because they're a great space-saving option for smaller guest rooms and box rooms, and also because they're versatile and durable enough to be used as a permanent seating option in a family space. But we've always had a greater selection of two seater sofa bed styles, giving our customers that much more choice for two seater models– so we feel that there's always been a likelihood that they are more inclined to opt for a sofa bed from this selection. We're basing the 21 new three seater sofa bed models on our contemporary two-seat range and expect to see favourable results in terms of increased orders thanks to the boost in our online selection."
Optimistic Outlook for 2012
Mr Welch has described the My Sofa Bed sales figures for 2011 as "encouraging", despite the general downturn in the consumer market,
"[And] we still have some time to boost sales figures for 2011 too, as all of our sofa beds can be ordered up to 3 weeks before Christmas to make delivery in time for the big day itself".
The My Sofa Beds new 21 models will be produced within the UK factories, keeping all aspects of the business as a thoroughly 'British affair' – an aspect that Mr Welch feels resonates well with his UK customer base.
The new three seater sofa bed range will also incorporate many practical features inherent to the existing range, including seat and back cushions with zipped removable covers for easy washing, and a quality medium-firm memory foam mattress for that extra element of comfort. And as with their two-seat and L shaped sofa bed UK-produced counterparts, the new additions to the My Sofa Bed range will also come with a 2 year guarantee on mechanisms and workmanship.
The 21 new three seater sofa bed models will be available online from January 2012 via http://www.mysofabeds.co.uk
About My Sofa Beds
My Sofa Beds is a UK-based manufacturer of sofa beds, corner sofa beds, futons and memory foam mattresses. With over twenty year's relevant contract furniture experience, My Sofa Beds ranks as a prestigious contract furniture supplier, with an excellent track record in customer service. My Sofa Beds supply both the domestic and commercial markets, and can produce models that adhere to contract (Crib 5) regulations.
All My Sofa Beds products can be purchased through the website, with bespoke orders and sofa bed sale enquiries made via the UK Sales Team on 0845 467 5847.
###