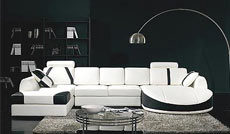 Every new sofa sale for us is a new analyses of what we should do to make each customer happy and 110% satisfied.
San Francisco, CA (PRWEB) May 10, 2012
Sofas Shopping specializes mostly in Sofas and Sectional sofas and has a largest selection of such products online. With a new site redesign like never before it became easier to choose specific details such as colors, materials, configuration and styles during shopping.
The first year was the most difficult for the company due to the understanding of customers needs as well as dealing with the errors of ordering something that you sit on using computer screen. "It must be very difficult for customer to pull the trigger and spend their money on something that they can't try, " said Alex Sher, Marketing Manager. "To compensate on that problem we analyzed the entire products we sell and took out those from online store that had problems in that past. Also on top of that, one of they key points why sofa shoppers use us is cheapest price, unique design and fast free delivery all over the United States. So when customer starts weighting "I gotta try it before I buy it" with "Cheap, Free Delivery, Design unlike any of my friends has," they choose the second one."
"Another key point in success full business is that we actually design and import many styles ourselves. So there is nothing to compare but only to enjoy unique and true style of our sofas. Most of the customer prefer leather sofas but do not want to pay the price of the full leather sofa. We listened and started using different materials to drop the price. One of the key elements was to have good leather on sitting area or which is also called touching area and the rest is high quality leather match. Today leather match reached such a quality and technologic production that it is hardly possible for most of the people to find difference between the real leather and leather match. So that main difference is the price which is twice cheaper. Every new sofa sale for us is a new analyses of what we should do to make each customer happy and 110% satisfied," Alex said.
The second best selling material is microfiber, which is also called micro-suede. It is used on sofas, sectionals and sleeper sofas that we sell. People and especially pet owners love it due to durability, animal scratch resistance and ease of clean. Microfiber sofas are also less expensive than leather sofas and some people prefer the warmth of it over leather.
This year the whole management and sales people are going to several furniture shows in United States and overseas to sample and test in person every single item to understand the feel and the quality. If you are ever in San Francisco Bay Area, stop by the large showroom to see the amazing designs that Sofas Shopping has.