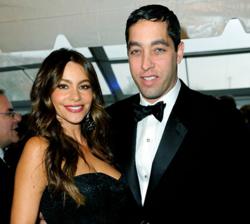 Boca Raton, FL (PRWEB) August 31, 2012
The big news that has been circulating around Hollywood is the reported engagement of Sofia Vergara to businessman Nick Loeb. Today, Ms. Sofia Vergara herself confirmed that she is indeed engaged. It has been reported that Nick Loeb popped the question in front of her friends and family at her 40th birthday party in Mexico. The gorgeous "Modern Family" television show star has been seen wearing a stunning diamond ring reportedly bought for her from Long Island's Two By London Jewelers. Sofia Vergara's engagement ring is said to have a center stone that is a square 7 carat cushion cut diamond. It also has two additional diamonds on each side, and the brilliance of the three stones combined makes her ring look like a 10 carat ring.
Ziamond Cubic Zirconia Jewelers features a variety of cubic zirconia engagement rings including affordable version of cushion cut three stone engagement rings very similar to the one worn by Sophia Vergara. Ziamond features a Cushion Cut with Trillions Ring Collection that includes various size center stone sizes and colors that range from 1 carat all the way up to 15 carats or even larger via custom order. Customers can order these top quality cubic zirconia rings in various colors of stones that include diamond look, yellow canary diamond look, pink diamond look, man made ruby, man made sapphire or man made green emeralds. Since Ziamond is the direct manufacturer customers can order these rings in precious metals like 14k, 18k Solid Gold or precious Platinum. Ziamond offers a cubic zirconia 7 carat Cushion Cut with Trillions engagement ring very similar to the engagement ring that Sofia Vergara received. Ziamond utilizes only the finest hand cut and hand polished original Russian formula cubic zirconia that comes with a lifetime warranty and they are always exclusively set in top quality designs made of 14k gold, 18k gold, and platinum so you have every feature of a fine diamond crafted masterpiece that a customer can wear with confidence.
About Ziamond:
Ziamond is recognized as a leading cubic zirconia jewelry manufacturer, specializing in the highest quality cubic zirconia jewelry exclusively set in 14k, 18k Solid Gold and luxurious Platinum. With Corporate headquarters located in Boca Raton, Florida, Ziamond ships fine cubic zirconia jewelry to customers worldwide. Ziamond is an A+ rated BBB company and enjoys a sterling reputation as a leader in its field.