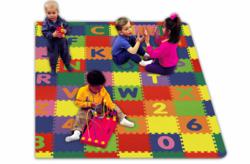 The most harmful thing that could happen within the industry is for an outright ban on foam kid's products due to a few bad apples trying to save a buck.
Chandler, AZ (PRWEB) May 24, 2011
FoamTiles.com announces the completion of a stringent series of tests to help ensure the safety of their foam tile and kids play mat product lines. Soft foam tiles are available for use as home exercise mats, as trade show booth flooring, and as play mats for kids. All of the FoamTiles.com products have now been certified as safe, non-toxic, allergen free, and formamide free.
"The soft foam tile market seems to have grown by leaps and bounds over the past decade and with that growth, we have seen a large growth in competition", states FoamTiles.com CMO Anthony Schmidt. "With that increase in competition, prices are going down on average and many companies are looking at ways to cut corners to maintain their margins." Mr. Schmidt further explains, "We have even seen competitors offering lower quality products that are manufactured in ways that infuse toxins into their products. One of the most dangerous chemicals recently found in low quality EVA foam products has been the industrial chemical formamide which is a known carcinogen. The European Union has even gone so far as banning any kid's toy products that contain formamide. We were assured by our manufacturers that our products did not contain the harmful chemical but we didn't stop there. We had all of our foam tile products tested by certified independent laboratories to guarantee the safety of our products."
Product tests are now available on request. Completed tests were performed by Consumer Testing Laboratories, Inc. and Exova labs and included a wide array of tests including lead, phthalates, formamide, allergens, quality and workmanship, fire test ratings, and temperature exposure. This ensures that all soft exercise mat products are certified kid safe.
Kurt Leitinger, COO of FoamTiles.com, adds "We always believed our products were of the best quality and always had testing completed as needed or requested however we wanted to be sure we are offering safe and non-toxic products since that is what our customer's deserve." Mr. Leitinger further states, "I would actually like to challenge all of our competitors to do the same. The most harmful thing that could happen within the industry is for an outright ban on foam kid's products due to a few bad apples trying to save a buck."
"FoamTiles.com and its sister site RubberFlooringInc.com have been offering high quality foam tile products at guaranteed low prices for years now. Every day we aim to help our company and the niche flooring markets we are in grow. As the industry leader, we felt the responsible thing to do was to be proactive and to make sure our own company was also being responsible. Passing all the tests with flying colors feels great right now but we also aim to keep testing our products in the future to ensure continued safety", concludes Mr. Leitinger.
About Inc Stores, Owner of FoamTiles.com.
Headquartered in Chandler, AZ, IncStores owns the leading online destination for residential and commercial specialty flooring options including RubberFlooringInc.com, FoamTiles.com and GarageFlooringInc.com. FoamTiles.com is focused on providing the best selection of soft tiles, trade show floor solutions, and foam kid's mat products online to its valued customers. All of IncStores web shops offer competitive pricing, top notch and knowledgeable sales and service representatives, and the widest selection available. For more information, please visit http://www.foamtiles.com.
###