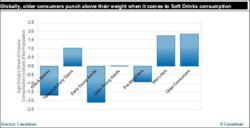 Dallas, TX (PRWEB) October 19, 2012
Releasing on October 20, 2012 this report offers a completely fresh look at consumer's Soft and Hot Drink habits, allowing marketers to understand people's consumption patterns like never before. This offers unique opportunities to effectively target new consumer groups, behaviors, and trends based on actual empirical data in Soft and Hot Drinks consumption across 10 core countries.
The stereotypical perception of Soft Drinks Market consumers is that they have a younger profile; however, Older Consumers' volume share of global consumption is almost 2 percentage points higher than their share of the population, which shows that Older Consumers are less drawn to Alcoholic Drinks and Hot Drinks than imagined.
Defying the stereotype, the survey found that Older Consumers, those aged 55 and over, punch above their weight in Soft Drinks markets. Shrewd marketers can take advantage of this by assessing how they can better exploit the product vacuum for Older Consumers.
Whereas the Hot Drinks Market consumption of men and women is very similar, in the overall Soft Drinks market there is a small swing in favor of men. This can be accredited to China, where Chinese women make up 48% of the survey and just 44% of the consumption. If China is discounted, the balance swings in favor of female consumption.
Key Features & Benefits

Unique integration of survey and market data provides market sizing consumption by key consumer groups, both by age and by gender, quantifying the value of key consumer groups by country.
Concise case studies identify best practice on how to align marketing practices to effectively target consumer trends, and shows how targeting multiple trends can be a highly effective proposition.
The impact of consumer trends is quantified by market and country to show where hotspots to target exist and exactly which trends are most important to target.
Key Highlights

The poor quality of municipal water and the rising affluence of consumers in the BRIC region pushes Bottled Water volumes upwards, compensating for a slowdown in Non-BRIC markets where demand is maturing; however this growth has a low margin and high volume as BRIC consumers have less disposable income.
In developed markets, Older Consumers are the most important age group in the Juices market: they account for over one-fifth of the volume of Juices consumed. Traditionally, children have been the main target audience for Juices, and to an extent they are an important consumer: Kids and Babies make up 15% of consumption; however, population dynamics mean that Older Consumers will remain the most important market in terms to total volumes.
Older Consumers account for more than a quarter of Sparkling Soft Drinks volumes in the surveyed markets, compared to just over a fifth for overall Soft Drinks. This age segment is notably important in developed markets, where they account for in excess of three in every ten liters of Soft Drinks consumed.
There is a direct correlation between age and the consumption of Hot Drinks: the older a consumer is, the more Hot Drinks they are likely to consume. In contrast to Soft Drinks, encouraging younger age groups, particularly Kids and Babies, to increase their consumption or even to take up Tea and Coffee drinking is more challenging. Other Hot Drinks, such as Hot Chocolate, generally provide more of an opportunity to get younger consumers to drink hot drinks.
In contrast to Tea, Coffee is seen as Indulgent worldwide; it is the second-most important consumer trend for Coffee, behind Personal Space and Time. Rising world coffee prices have contributed to this sense of Indulgence and Coffee's popularity has been boosted by the coffee shop phenomenon. Furthermore, Coffee can be made more indulgent through the addition of syrups, toppings, and creams, which has helped raise the profile of Coffee and educate consumers on the diverse range of Coffee products on the market.
Marketers need to address evolving lifestyles as consumers age. This is not just with regard to product but also to packaging and marketing. In the UK for instance, the expansion of access to higher education and social trends delays the age at which people tend to settle down and start families, which has created an important consumer group within the Early Young Adults, and even Older Young Adults, age group whose lifestyles more closely resemble a "youth" market than those of Early Young Adults twenty or thirty years ago.
This report is releasing on October 20, 2012. Buy your copy of the report @ http://www.reportsnreports.com/reports/197905-global-trends-and-consumption-demographics-in-soft-and-hot-drinks.html
Browse more reports on the Food and Beverages Market @ http://www.reportsnreports.com/market-research/food-and-beverages/ .
Contact sales(at)reportsandreports(dot)com for further information.
About Us:
ReportsnReports.com is an online market research reports library of 200,000+ in-depth studies of over 5000 micro markets. Our database includes reports by leading publishers from across the globe. We provide 24/7 online and offline support service to our customers.