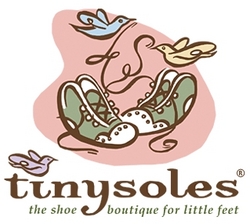 We also have a staff of Shoe Specialists available if you need help finding the best fit or size and brand for your baby.
Rainier, WA (PRWEB) May 19, 2010
TinySoles, the leading online shoe store specializing in shoes for babies, infants, toddlers, and kids, announced today its line of soft-soled, lightweight, gripping shoes for babies first learning to walk. TinySoles' full line of popular brand baby shoes protect tiny toes against cold, damp or rough surfaces and aid in achieving natural balance and proper muscle growth for emerging walkers.
"Walking is one of baby's major milestones," says Chalese Smartt, Kids Shoes Specialist at TinySoles. "The grasping action of the toes is a skill that must be developed. Our full line of soft baby walking shoes supports this exciting stage by giving babies' feet and toes plenty of room to maneuver and the ability to feel the ground beneath them while cruising and taking their first steps."
Baby's first walking shoes should be soft and flexible, with natural, breathable uppers and an adjustable fastener for a perfect fit. Popular baby shoe brands like Pediped, See Kai Run, Robeez, and Stride Rite are available at TinySoles.com, and have soft soles that mimic barefoot walking and allow natural development of the foot. Most of these baby shoe brands carry the prestigious Seal of Acceptance from the American Podiatric Medical Association for baby shoes that allow normal foot function and promote quality foot health.
"One of TinySoles' goals is to provide well-made, stylish shoe options for babies and kids, but much more important than a baby looking stylish is healthy foot development," says Smartt. "Flexibility and comfort are important factors in determining the best baby shoes. Heavy or constricting baby shoes actually make it harder for babies to walk and hinders them from building the natural muscle strength they need for proper foot development."
All TinySoles baby walking shoes, including brands like Rileyroos and Umi, have soles made from soft leather and uppers made from breathable, lightweight materials. Heavy shoes with stiff or rigid soles can prevent baby from naturally developing the strength and skills necessary for a lifetime of healthy feet. The full line of soft sole baby shoes at TinySoles allows babies to master the proper techniques when walking.
"Proper sizing for baby walking shoes is essential because loose shoes can cause your baby to trip and tight shoes can restrict proper foot growth, so we provide size and printable measurement charts for each brand of shoes we carry" says Smartt. "We also have a staff of Shoe Specialists available if you need help finding the best fit or size and brand for your baby."
To view TinySoles' collection of baby shoes in sizes 0-6 months, 6-12 months, and 12-18 months visit tinysoles.com. For assistance determining the most appropriate shoes for a baby first learning to walk call a TinySoles Shoe Specialist at 1-800-338-4071.
About TinySoles
TinySoles is a childrens shoes store dedicated to providing the most complete selection of stylish, comfortable shoes for babies, infants, toddlers and kids. The TinySoles staff test all shoe brands on their own kids to get first-hand experience on the quality, comfort, and durability of each shoe. TinySoles mission is to provide a hassle-free shopping experience for busy parents while keeping children's feet happy, comfortable, and stylish. The team of shoe specialists at TinySoles makes every effort to search for the best new products available. TinySoles prides itself on being a parent-friendly and supportive workplace.
For more information about TinySoles, visit http://www.tinysoles.com.
# # #