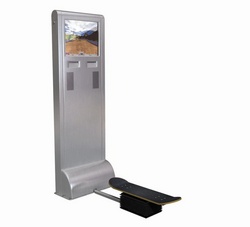 Both new units have unique features that children will love to play, and they won't even think about it being related to exercise
HUNTERSVILLE, N.C. (PRWEB) September 4, 2007
Soft Play finalized an agreement with DNA Digital Media Group to distribute two new interactive play/exercise gaming platforms - Ride Ranger(TM) and Skateboard. Both games were developed to help provide children with an active and fun new way to play.
The Ride Ranger(TM) is an innovative bike platform that combines a digital input display with an integrated feedback system to create a unique interactive experience. The game encompasses pedals and handlebars just like a regular bike, while using the electronic screen for the child to visualize a course. As the child pedals and steers, the virtual reality course mimics the child's movements. Each unit comes standard with six different rides that rotate automatically. Stand-alone or multi-player action is available so children from two to six years of age can ride together.
The interactive Skateboard helps promote cardiovascular exercise in children and targets the seven to twelve year-old age group. Like the Ride Ranger(TM), the Skateboard uses an electronic platform with a LCD screen. Children can stand on the patent pending skateboard component and tilt back and forth, while using balance and coordination skills to move through the course and collect points. Skateboard also comes standard with six different course games and can be used as a single or multi-player option as well.
"Both new units have unique features that children will love to play, and they won't even think about it being related to exercise," stated Jim Swintek, product manger for Soft Play. "As gaming becomes more popular with children, the obesity epidemic continues to rise. Our goal was to offer clients an option for indoor play that combines exercise skills along with mental stimulation. Our games help promote 'fun exercise', while having the same type of gaming challenge."
"Ride Ranger(TM) and Skateboard interactive games are great for indoor facilities that need activity areas, but may not have a lot of room for larger play systems. Also, both units can be upgraded easily from the web. Facility managers can customize levels, languages, and even upload new games as they become available," continued Swintek.
Soft Play, L.L.C. has been the world leader in creating unique indoor and outdoor contained play environments. Since 1984, Soft Play has installed over 15,000 play systems. Soft Play continuously strives to offer its customers play systems and components to meet each customer's specific play area needs. Each unit is designed to entertain and challenge children from small toddlers to early-tweens. To learn more about Soft Play, visit http://www.softplay.com.