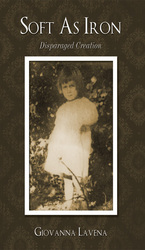 Knoxville (Vocus) November 18, 2010
In her new novel, Soft As Iron, author Giovanna Lavena tells a story both horrific and uplifting, based on her own trying life of mental and physical abuse.
Soft As Iron is the story of a scorned child who becomes an abused wife and mother. Born out-of-wedlock in pre-WII, religiously conservative Italy, Vanna begins her life in an orphanage, despised by her maternal grandmother from birth. Soon reunited with her domineering mother and manipulative father, she seeks solace from the struggles of her childhood in marriage, only to discover her new husband's abusive ways.
Battered and scared, Vanna must risk her life as she knows it to protect herself and her children, to overcome a lifetime of fear and finally find the path she has always deserved.
Closely based on her life, Lavena was motivated to tell her story of survival to inspire others. "I want my readers to learn not to fear. I want them to learn from my story that no matter how hard life seems at times, there is always a solution as long as we don't give in to panic and fear. Vanna finds herself often in very dire situations, yet she is able to overcome them only when she let go of fear and lack of self-esteem. Never let anyone one take your self-esteem away. All of us are valuable. We just have to believe in ourselves."
Through Soft As Iron, Lavena tells a message of hope and personal strength to the defeated, of overcoming fear to create a new life for oneself.
For more information, visit http://softasiron.com.
Soft As Iron
By Giovanna Lavena
Paperback, 6x9
Approximately 380 pages
ISBN: 9781449063641
$12.99 retail price
Available at http://www.amazon.com
About the author
Lavena was born out-of-wedlock in pre-war Italy. Raised in a wealthy, conservative family, she married a Venezuelan student and moved far away to escape her parents. Her marriage deteriorated and she chose divorce over insanity. With her five children at her side, Lavena successfully restarted her life, but politics and false friends cause her to lose it all. To survive, she relocated to the United States with her children. Lavena went to college to learn about computers and opened an Italian restaurant, "Let's Eat Italian." She also worked in a factory, and later as a manager at a bilingual TV company. At the same time, she taught Italian part-time at the local Foreign Languages Academy. A stroke and lung cancer survivor, Lavena is now retired. Soft As Iron is her first book, written in her third language.
AuthorHouse is the premier book publisher for emerging, self-published authors. For more information, please visit http://www.authorhouse.com.
###