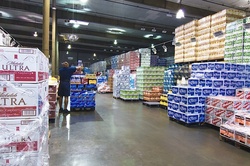 We have a proven approach and the technology platform to reduce the time, cost and risk of implementation
Herndon, VA (PRWEB) September 23, 2009
The Softeon Route Accounting System(RAS) is an integrated solution and is now compliant with interfaces to BudNet, Mobility, e-commerce transactions and UPS Logistics suites, making Softeon (http://www.softeon.com) one of the few ISV's offering a complete end-to-end supply chain execution solution.
Softeon RAS, which includes the Softeon Warehouse Management System(WMS), Softeon Direct Store Delivery System (DSD), Softeon Truck Planning Module(TPM) and the customer Accounts Receivable System, provides a "next generation," end-to-end, integrated, seamless logistics solution for Anheuser-Busch InBev beer wholesalers.
Over the past three years, a number of leading wholesalers in the Anheuser-Busch InBev wholesaler network have implemented Softeon's WMS, and more are being on-boarded this year. The RAS-WMS integrated suite provides them with "best-of-breed" functionality, significant gains in operational efficiencies, improved workflows, real-time visibility of inventory and operations, and integration to Anheuser-Busch InBev.
Some of the functional highlights of the Softeon RAS are:
Flexible Framework for Company Setup:

Multi-company, multi-warehouse
One company with one or more warehouses
Separate wholesaler numbers
Separate business calendars by location
Handles Different Product Mixes

Alcohol, non-alcohol, wines and spirits
Separate invoice types by product mix
Unified Master Data Management (MDM)

Customers are entered once for all locations, companies, etc.
Validation with BudNet
Mass update capabilities
Ability to move customer history from locations
Softeon's (http://www.softeon.com) supply chain suite is a web-based solution built on a distributed Java/J2EE-based, services-oriented architecture, enabling our clients to implement a leading-edge solution for their business operation, realizing overall productivity improvements in excess of 35%. More specifically, with Softeon's WMS solution, pick productivity of 50% or more has been achieved and sustained across Softeon's Anheuser-Busch InBev wholesaler customer base (which are both large and mid-sized) with varied operations like Pick by Routes/Pick to Order/Pick to Carts/Peddle Routes, and more.
The interfaces to Mobility and UPS Logistics, coupled with the powerful rules-based order management available in the RAS, provide flexibility and ease for wholesalers in configuring price, discounting policies and better route planning. The finalized orders flow into the warehouse management suite, which optimizes loads for the routes, then powerful, configurable palletization rules trigger optimized warehouse tasks that can be executed using either Voice or RF technologies (both native to the solution suite). The Softeon Delivery solution interfaces seamlessly with the Anheuser-Busch InBev Mobility suite for better returns handling, route settlement processes and accurate reconciliations, resulting in complete visibility in the supply chain cycle.
"We have a proven approach and the technology platform to reduce the time, cost and risk of implementation," said Gana Govind, president of Softeon. "Achieving Anheuser-Busch Inbev ISV compliance demonstrates these capabilities, and our commitment to successful system deployments and realization of rapid ROI by the wholesalers."
Softeon will be exhibiting the RAS and other solutions in the beverage spectrum at the NBWA Convention in Las Vegas from September 23 - 24 in booth 121.
About Softeon
Softeon (http://www.softeon.com) provides the industry's most functionally rich suite of WMS and supply chain execution solutions. Built on an advanced, fully web-native technical architecture, Softeon's solution series offers a comprehensive, yet modular, solution for warehouse and distribution management, order management, labor and resource management, work order processing, and transportation management. Companies consistently find our solution suite offers the most deep and comprehensive set of capabilities in the supply chain execution industry, supported by an advanced and flexible technical architecture, satisfying both operations and IT requirements.
Softeon's growing list of customers includes well-known companies such as Anheuser Busch Inbev distributors (The House of LaRose, Ben E. Keith, Del Papa Distributing, Hoffman Beverage Company, Clare Rose), to name a few. In other industries, Softeon works with logistics leaders and marquee companies like Sony, Time, Sears, Chrysler, the Internal Revenue Service, and Ceva Logistics.
Anheuser Busch, Anheuser Busch Inbev and all Anheuser Busch, Anheuser Busch Inbev logos are trademarks or registered trademarks of Anheuser Busch Inbev in the United States and in several other countries.
###