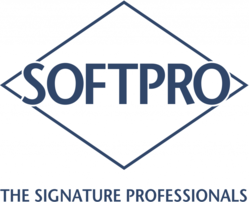 We know the substantial effort many organizations go through to signature-enable their applications. Our SignDoc software and tools help to shortcut that effort, but already built-in functionality is really the ideal situation for financial institutions
Westlake Village, CA (PRWEB) September 25, 2012
Softpro announces today that its SignDoc Web electronic signature solution is integrated in the sales and services platform of a leading global banking software provider. The built-in esignature functionality eliminates the need for banks to evaluate, integrate, and test a third party application thereby expediting the use of the technology as well as minimizing the IT effort and project risk. The SignDoc Web platform supports all esignature types, including click-to-sign and handwritten, making its use a strategic investment for financial institutions with a multichannel strategy.
"The ease-of-deployment of this integrated esignature solution is key," said Rodney G. Vesling, President and General Manager at Softpro N.A. "We know the substantial effort many organizations go through to signature-enable their applications. Our SignDoc software and tools help to shortcut that effort, but already built-in functionality is really the ideal situation for financial institutions."
Electronic signature technology eliminates the need to print account opening documents simply to capture a wet-ink signature and then scan or index the documents for archiving. Instead, customers apply their esignature on the eforms, keeping the process electronic and fluid.
"Changes or additions to a core business application, like a sales and services platform, is never taken lightly by financial services institutions," adds CEB TowerGroup research director Nicole Sturgill. "This type of collaboration of software vendors brings value-added functionality that banks rely on for a continuous flow of innovation and enhancements aimed at improving the customer experience and business processes."
Softpro will demo the integrated solution at BAI Retail Delivery, Booth # 1345, from October 9-11, 2012 in Washington, DC. The company will also host an Electronic Signatures in Banking Webinar on October 24, 2012 at 11 a.m., PST with a guest speaker from CEB TowerGroup.
About SignDoc Esignature Software Suite
The SignDoc Esignature Software Suite offers both desktop and server-based solutions. The SignDoc Web platform, a server software installed behind your firewall, supports click-to-sign esignatures and handwritten esignatures captured with a pad, tablet, or smartphone. SignDoc Desktop is locally installed electronic signature software that enables users to esign any PDF or TIFF. Softpro also offers an Adobe Acrobat® or Adobe LiveCycle® native application. SignDoc Active X and SDKs are available.
About Softpro
Founded in 1983, Softpro is the most experienced signature management company. The company's SignDoc Esignature Software Suite supports handwritten esignatures captured with any device including tablets and smartphones as well as offers a secure click-to-sign esignature solution. In addition, SignDoc compliments Softpro's check fraud prevention solution, FraudOne, for managing signature references and automated check fraud detection. The products are used in 50 countries and 12 of the world's 25 largest banks trust Softpro. http://www.trustedsignatures.com