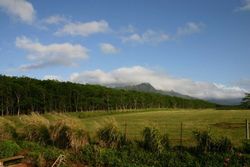 We offer hotel operators a U.S.-based, tangible, verifiable investment in clean energy solutions that could pay off in higher occupancies and guest loyalty
Atlanta (PRWEB) December 16, 2008
Softscribe® Inc., an Internet public relations firm that drives sales for companies targeting the green tourism and hospitality, green government and related markets, today announced it will provide marketing and Internet public relations services to Hawaiian Mahogany Inc., a U.S.-based, 12-year-old certified provider of verifiable Carbon offset credits for environmentally responsible Fortune 1000 firms and companies in hospitality, travel and other industries.
"Carbon credits are a growing channel for businesses that want to go on record for effectively helping to stop global warming," said Michael Squires, president of Softscribe Inc. "Carbon offset credits are mandated by many countries today; I expect to see that become a reality in the United States, as well. Hawaiian Mahogany already provides carbon credits, which are particularly important to hotel companies establishing an image of environmental responsibility."
60% of Americans are more likely to purchase products from a green company.
"We offer hotel operators a U.S.-based, tangible, verifiable investment in clean energy solutions that could pay off in higher occupancies and guest loyalty," said Bill Cowern, president of Hawaiian Mahogany, Inc. "Studies show that 60% of Americans are more likely purchase products from a green company."
Other benefits to hotel operators Cowern cited include:

Employee recruitment and retention: Companies with a clean ecological footprint attract smart, idealistic, young staff.
Tax credits: Often available when American companies reduce their carbon footprint by purchasing carbon offsets from other American companies like Hawaiian Mahogany.
New business opportunities: And new reasons for people to stay at your properties for business or leisure
A strong future: When U.S. carbon controls are tightened, the most successful companies will be those with strategies already in place. Get a head start on your competition.
About Hawaiian Mahogany, Inc.
Hawaiian Mahogany Inc. (HMI), founded in 1996 and based in Kauai, Hawaii, is an award-winning, pioneering tree farm and verified carbon offset credits provider. HMI has developed an integrated cycle of sustainable processes to produce sustainable lumber, bio fuels, on site hydroelectric power, organic fertilizer, and cattle feed. HMI manages over 3,200 acres of reclaimed sugar plantations on Kauai, propagates and maintains over one million tropical hardwood trees, and sequesters approximately 130,000 tons of carbon per year. The company's processes and carbon sequestering metrics are certified by Winrock International and through the Voluntary Carbon Standard program. Its offset credits offer the highest value currently possible. A domestic company, Hawaiian Mahogany's project are a strong option for renewable energy sources within the American market.
About Softscribe® Inc.
Softscribe Inc. leverages ten years of proven experience, deep domain expertise and fresh, client-tailored Internet public relations and marketing programs to help companies targeting the green tourism and hospitality, green government and related markets drive sales and reach their business goals. We do this with an emphasis on relationships and our own blend of emerging new media, traditional Internet PR and technology-based solutions. We are proud of our best-in-class clients, which include Aptech Computer Systems, Inc., Gold Key Solutions, Flyte Systems, Hawaiian Mahogany, hotelSystemsPro, JDA Software, NORTHWIND Maestro-PMS, The Rainmaker Group, SRA International, TravelCLICK and many other leading technology and service companies. We would love to help you, too. For more information please visit http://www.softscribeinc.com/.
Contact:
Bill Stepchew, Operations Manager
Hawaiian Mahogany Inc.
P.O. Box 649
Lawai, HI 96765
Phone: (808) 212-9490
Email: BillStepchew(at)aol.com
http://www.hawaiianmahogany.com
Media Contact:
Julie Keyser-Squires, APR
Softscribe Inc.
180 River Springs Drive NW
Atlanta, GA 30328
Phone: (404)256-5512
Email: Julie(at)softscribeinc.com
http://www.softscribeinc.com/?Campaign=PRWebHawaiianMahoganyDec162008
###