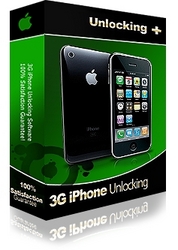 (PRWEB) November 16, 2010
Jailbreaking and unlocking an iPhone is common among iPhone owners. This process allows them to install thousands of third party applications; customise with themes, background, music or other settings; play around with springboard add-ons; and many others. Jailbreaking opens the device up to the owner deciding what to do with it. Unlocking and jailbreaking a phone does have its risk and if done incorrectly can render a phone inoperable.
iPhone Unlocking, has created software to allow users to both unlock and jailbreak iPhone 4.1, the latest IOS version of iPhone. Providing a simple 1-2-3 step guide, this tool – offered through UnlockiPhone.co.uk – is also capable of unlocking iPhone 3G, 3Gs and iPhone 4 worldwide in a few minutes. The software is compatible with both Windows or Macintosh operating system.
The very first iPhone Unlock software created by iPhone Unlocking, was in July 2007. To date, that software has been downloaded by over 1 million customers in over 145 countries, making the company the most experienced and accomplished iPhone Unlocking service in the industry.
iPhone Unlocking's fresh tool to unlock iPhone is also compatible with all firmware versions. Upon unlocking an iPhone, users will be able to use any network provider of their choice from any location in the world. Developed with absolute simplicity in mind, this newest software is usable by just about anyone from anywhere in the world, with ease and without the need for a technical background.
"Exactly as described. My 3G iPhone running IOS 4.1 really was unlocked in under 5 minutes," Joan Bushey of the USA, says of the product.
UnlockiPhone.co.uk also offers its latest software with an additional debugging functionality that is not available with any other software solution. This add-on is deemed to enhance the performance and general speed of the iPhone. As a goodwill gesture, iPhone Unlocking is also providing customers with free lifetime updates with every purchase. This ensures safe updates to future iPhone firmware and IOS versions. Most importantly, the iPhone will remain unlocked when installing these future versions and firmware updates.
iPhone Unlocking ensures customers that its software works. In fact, the company is offering a 100% full money back guarantee on all orders. Customers who are dissatisfied with the product in any way will be provided with a full refund. This website also offers full customer support via email, live chat, phone or by post.
###