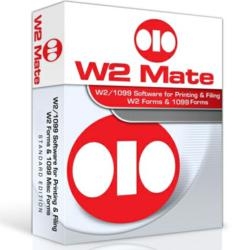 Our W2 Mate software provides one of the most powerful and easy-to-use tools for 1099-K Filing on the market today.
Chicago, IL (PRWEB) October 10, 2012
Real Business Solutions Inc., have released the latest IRS 1099-K filing feature which is great news for businesses, tax professionals and transportation companies. The new module gives users all the advanced features they expect from 1099-K software including the ability to create, review, validate, print, email, e-file and export Forms 1099-K, Merchant Card and Third Party Network Payments.
Real Business Solutions have been providing payroll and 1099 software programs since 2003. Their flagship product, W2 Mate, is trusted by thousands of businesses and tax professionals nationwide. The US w2 and 1099 reporting software supports paper-print and paperless (electronic) wage and information return preparation for 1099-MISC, 1099-K, 1099-INT, 1099-DIV, 1099-R, W-2, 1099-S, 1098-T, 1098, 1099-A, 1099-B, 1099-C, 1099-PATR, 1099-OID and associated transmittals (1096 and W-3 forms).
Most US businesses accept credit cards to provide a quick and easy way for customers to pay for products and services. New IRS regulations require payment settlement entities such as banks to send 1099-K forms to businesses that accept payments made via credit, debit or even gift cards. The new 1099-K forms will also be sent by third-party settlement organizations like PayPal that are contractually obligated to make payments to participating payees or merchants, in a third-party payment network, if the gross payments to a payee exceed $20,000 and consist of more than 200 transactions.1099-K software solution offered by W2Mate.com makes it easy for filers to process IRS Tax Form 1099-K on paper or electronically.
A FREE 1099-K Software trial can be downloaded from the company's website by visiting http://www.w2mate.com/.
W2 Mate – W2 1099 Software imports data from Microsoft Excel, Intuit QuickBooks, Sage Peachtree (Sage 50), Microsoft Dynamics, Sage DacEasy and spread sheets. Users of Enterprise Accounting software like Sage MAS 90, MAS 200 and SAP can save a lot of money by using the W2 E-file and 1099 E-file features available inside W2 Mate.
W2 Mate Software highlights:

Prepares unlimited number of W2 and 1099 forms for multiple employers and payers.
Fills in pre-printed 1099 Copy-A forms and prints other copies such as recipient and payer copies on plain paper using black ink.
E-files W2s and 1099s with the SSA and IRS (no limitations on the number of forms or submissions).
Free downloadable updates and free technical support by phone, email and chat.
Creates employee W2's as PDF and recipient (vendor) 1099's as PDF.
Prints government-approved W-2 and W-3 forms on regular white paper (no red-ink form to buy),
Imports data from Intuit QuickBooks (QuickBooks Pro, QuickBooks Enterprise, and QuickBooks Premier), Microsoft Dynamics (GP or SL), Sage Peachtree, Sage DacEasy or CSV/ Excel.
Efficient and intuitive manual W2 / 1099 data entry.
Supports 1099MISC, 1099K, 1099INT, 1099DIV, 1099R, W2, W3, 1096, 1099S, 1098T, 1098, 1099A, 1099B, 1099C, 1099PATR, 1099OID.
Automatically calculates Social Security and Medicare taxes.
Supports Windows 8, Windows 7, Windows Vista, Windows XP, Windows Server 2003, Windows 2000 or Windows 98.
Roll-over of payer and recipient information from year to year.
Password protection and data validation.
Generates printing labels, form totals and recipient lists.
Give the 1099-K Software from W2Mate.com a test drive and see for yourself how easy 1099-K electronic filing and printing can be. Visit 1099-K software page.