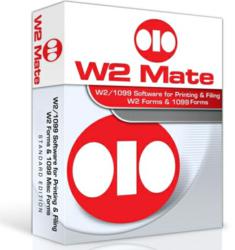 Our team invested significant time and effort to develop an easy to use 1099-B printing and E-filing solution. We are proud to introduce this 1099-B Software to the business community because it will greatly reduce time and effort for 1099-B compliance.
Chicago, IL (PRWEB) November 15, 2011
W2 Mate software launched new IRS filing solution that covers all the 1099-B printing and electronic reporting needs of brokers, barter exchanges, businesses, CPAs, and tax professionals. The 1099-B software provides all the capabilities users need to create, process, prepare, import, print, and E-File IRS 1099-B Forms -Proceeds from Broker and Barter Exchange Transactions.
The new 1099-B software saves users time and money by printing 1099-B recipient copies on regular white paper. The state of the art program makes electronic filing of 1099 broker and barter exchange forms as simple as uploading a file to a website. Thanks to its powerful import wizard, this 1099-B program can remap 1099 data stored inside different accounting packages into 1099-B forms. W2 Mate can import data from Sage Peachtree, Intuit QuickBooks, Sage DacEasy, Microsoft Dynamics, excel sheets and many other sources.
W2 Mate (W2Mate.com) presents a great alternative to US tax professionals, brokers, and barter exchanges looking for a more convenient, simple and affordable way to prepare IRS 1099-B tax forms. W2 Mate 2011 enhances user experience with attractive new features that make 1099 and W-2 processing easy and stress-free.
Major changes and updates to form 1099B were introduced by the IRS for 2011. New boxes have been added for reporting the date of acquisition, cost or other basis, amount of loss disallowed due to a wash sale, and whether the gain or loss is short-term or long-term. Other boxes on the form have been moved or renumbered. All these changes are supported by W2 Mate software.
W2 Mate is currently the only W2 and 1099 software that can import 1099 data from Intuit QuickBooks accounting software and map it into 1099-B forms. The W2 1099 software can connect directly to QuickBooks, which makes the import process easy and straightforward.
W2 Mate engineers have developed a unique and exclusive mechanism for importing 1099 data from Microsoft Dynamics and then map it into different types of 1099 forms. For example MS Dynamics users can use W2 Mate to import data stored as 1099-MISC and map it into 1099-B form with one click. Once the forms are imported inside W2 Mate, they can be reported to the IRS on paper or electrically.
W2 Mate is trusted by thousands of businesses and professionals nationwide. A free demo of W2 Mate can be downloaded by visiting http://www.realtaxtools.com/.
Below is a high-level functional breakdown of the W2 Mate software features:

Data import from Sage Peachtree, MS Dynamics, Great Plains, Intuit QuickBooks, Sage DacEasy, Excel and CSV.
Prints 1099 recipient and filer copies on regular white paper.
Unlimited use of W2, 1099-MISC, 1099-INT, 1099-DIV, 1099-R, W-3, 1096, 1099-S, 1098-T, 1098, 1099-A, 1099-B, 1099-C, 1099-PATR and 1099-OID tax forms.
Unlimited 1099 electronic filing using IRS FIRE System (No per form fees and No data transmission charges).
SSA-approved to print W2 and W3 forms on regular paper including government copies.
Creates employee W2's as PDF and recipient (vendor) 1099's as PDF.
Unlimited W2 electronic filing submissions using the EFW2 format.
Employee and recipient information rolls-over from year to year (you don't have to key in the same information every year).
Prompt, courteous and reliable U.S.-based support through phone, chat or e-mail.
About Real Business Solutions:
Established in 2003, Real Business Solutions is an industry leader in providing small business payroll software, 1099 preparation software and W2 tax software solutions for 2012, 2011, 2010 and before. Real Business Solutions products are used by thousands of businesses, tax professionals, non-profit organization, and government agencies all across America. The Company's mission has been to provide powerful and great value software solutions coupled with high quality customer service. Through this website small businesses and accounting professionals can find and download software to manage payroll, report payroll taxes, print W2 Forms, Print 1099 Forms, E-File 1099, electronically file W2 forms, print checks and prepare payroll forms like 941, 940, 944, W-2, W-3, California DE-6 , California DE-7 , Texas C-3 , Texas C-4, New York NYS-45, Illinois 941 and Illinois UI-3/40.
# # #