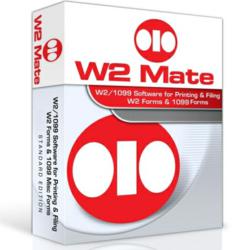 The 1099-C filing module inside W2 Mate software arrives as the professional 1099 Cancellation of Debt preparation tool essential to every bank, lending company, lawyer and tax professional in the 2011 / 2012 tax season.
Chicago, IL (PRWEB) January 20, 2012
Real Business Solutions (http://www.W2Mate.com), an accomplished provider of 1099 filing and reporting software, invites banks, CPAs, tax professionals and 1099 printing services to test drive the 2011 1099-C preparation module available in its W2 Mate software. W2 Mate is loaded with features that make it easy and affordable for lending companies to prepare IRS information returns including 1099-C (Cancellation of Debt). The 2011 / 2012 tax season is easy and stress-free with W2 Mate software.
A free 1099-C printing and electronic filing software trial can be downloaded from the company's website by visiting http://www.w2mate.com/. Filers can purchase the software and receive it instantly.
W2 Mate saves users time and money by printing an unlimited number of 1099-C forms copy B (For Debtor) and Copy C (For Creditor) on regular white paper. This eliminates the need to buy expensive laser red-ink forms. The 1099 filing system can also generate an unlimited number of 1099-C electronic filing submissions to the IRS FIRE System for one low fee. All substitute forms generated by this 1099-C software comply with IRS publication 1179 (General Rules and Specifications for Substitute Forms 1096, 1098, 1099, 5498, W-2G, and 1042-S). All 1099-C electronic filing submissions generated by W2 Mate comply with IRS Publication 1220 Specifications for Filing Forms 1097, 1098, 1099, 3921, 3922, 5498, 8935, and W-2G Electronically.
Thanks to its powerful import wizard, W2 Mate program can remap 1099 data stored inside different accounting packages into 1099-C Cancellation of Debt forms. W2 Mate can import data from Sage Peachtree, Intuit QuickBooks (QuickBooks Pro, QuickBooks Enterprise, QuickBooks Premier), Sage DacEasy, Microsoft Dynamics(GP or SL), excel sheets and many other sources. W2 Mate engineers have developed a unique and exclusive mechanism for importing 1099 data from third-party applications and then map it into different types of 1099 forms.
In a statement Nancy Walters, W2 Mate product manager at Real Business Solutions said, "This new release of W2 Mate reflects our deep commitment to delivering affordable and easy-to-use 1099-C Filing solutions that help lending companies of every size process 1099 Cancellation of Debt tax forms in-house."
W2 Mate software highlights:

W2 EFile support (Complies with SSA EFW2 format Specifications for Filing Forms W-2 Electronically)
1099 EFile support (Complies with IRS Publication 1220- Specifications for Filing Form 1099 Electronically)
Generates ready-to-email w2 forms and 1099 forms. Which eliminates the need to print and email W2s and 1099s.
For paper filers 1096 and W3 are automatically generated.
Unlimited W2 forms and 1099 forms.
SSA approved to print W2 & W3 forms on regular white paper, which eliminates the need for expensive forms.
Network ready with affordable pricing for multiple seats.
W2 and 1099 data checking and validation.
Prints on pre-printed 1099 forms & W2 Forms.
Prints 1099 Form Copies & W2 Copies on blank paper.
Direct data import for QuickBooks 1099 forms and QuickBooks W2 forms.
W2 1099 data import from CSV file.
Exports W2s and 1099s to excel.
###