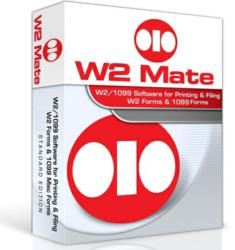 We are proud to offer this powerful 1099-OID Software to the business and tax professionals community because it will greatly reduce time and effort for 1099OID compliance.
Chicago, IL (PRWEB) December 06, 2011
Real Business Solutions (http://www.W2Mate.com), the innovative and dedicated 1099 software provider, invites tax professionals and 1099 printing service companies to try the 1099-OID filing module available in its W2 Mate software. W2 Mate, W2 1099 processing program, is loaded with features that make it easy and affordable for businesses filers to prepare IRS 1099 forms including 1099-OID (Original Issue Discount). The 2011 / 2012 tax season is easy and stress-free with W2 Mate software.
The 1099OID filing module from W2Mate.com saves users time and money by printing 1099-OID forms copy B (For Recipient) and Copy C (For Payer) on regular white paper. This eliminates the need to buy expensive laser red-ink Original Issue Discount forms. All substitute forms generated by this 1099 tax software comply with IRS publication 1179 (General Rules and Specifications for Substitute Forms 1096, 1098, 1099, 5498, W-2G, and 1042-S).
IRS Form 1099-OID, which originated during the 1984 tax year, is issued to investors who purchased securities such as Treasury bills, zero-coupon bonds, and commercial paper for an amount that is less than face value. An OID (original-issue discount) is the excess of a note or bond' stated redemption price over its issue price. The issue price is generally the amount at which the bond or note was first sold by the issuer (say $19,000). The stated redemption price is usually the face value of the bond or note (say $20,000). Income shown on a 1099-OID is to be included on Part I in Schedule D of an investor's federal income tax return.
W2 Mate has a unique mechanism for importing data from different accounting and payroll software to allow users print a wide range of w2 and 1099 forms.W2 Mate can import 1099-OID and other 1099 information from Intuit QuickBooks (QuickBooks Pro, QuickBooks Enterprise, QuickBooks Premier), Microsoft Dynamics (GP or SL), Sage Peachtree, Sage DacEasy or Excel.
W2 Mate can also generate 1099OID electronic filing submissions ready to upload to the IRS FIRE System. Some W2 Mate users save thousands of dollars each year by registering with the IRS and uploading their own files instead of using a 1099 submissions service. The 1099 electronic processing module that ships with W2 Mate provides the capabilities for E-Filing the following forms with the government: W2, 1099-MISC, 1099-INT, 1099-DIV, 1099-R, W-3, 1096, 1099-S, 1098-T, 1098, 1099-A, 1099-B, 1099-C, 1099-PATR and 1099-OID. Processing W2s and 1099s electronically is easy to use, efficient, secure, fast, flexible, and above all saves filers valuable time and money. Any filer of W2 or 1099 information returns may submit their forms electronically; however any employer or business who files 250 or more forms for any calendar year must file electronically.
In a statement Nancy Walters, W2 Mate product manager at Real Business Solutions said, "This new release reflects our commitment to delivering affordable, easy-to-buy and easy-to-use 1099-OID filing solutions that help companies and tax professionals, process 1099 Original Issue Discount tax forms in-house."
A free 1099-OID processing software demo can be downloaded by visiting http://www.W2Mate.com.
###