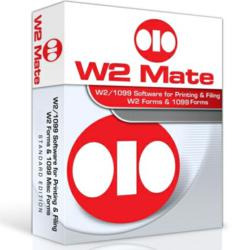 This new release reflects our commitment to delivering affordable, easy-to-buy and easy-to-use 1099-S filing solutions that help companies of every size process 1099 real estate tax forms in-house.
Seattle, WA (PRWEB) November 09, 2011
W2 Mate invites settlement agents, real estate brokers, real estate lawyers and tax professionals to try the 2011 version of W2 Mate software which supports the full cycle of form 1099-S processing. With W2 Mate 2011, users can import, type, create, print and E-File 1099S forms for the 2011 / 2012 tax season. The 1099-S software imports data from Microsoft Excel, Intuit QuickBooks, Sage Peachtree, Microsoft Dynamics, Sage DacEasy and spread sheets.
The 1099-S software for 2011 offers huge savings in time and money for users by allowing them to print an unlimited number of 1099-S forms (transferor or recipient copies) on regular white paper. The software can also generate an unlimited number of 1099-S electronic filing submissions to the IRS for one low fee.
W2 Mate (http://www.W2Mate.com) provides a great solution to banks, real estate agents, escrow companies, attorneys for property transactions and 1099-S printing service providers. W2 Mate offers an affordable, yet robust alternative for preparing IRS 1099-S (Proceeds From Real Estate Transactions) forms. W2 Mate is trusted by thousands of companies, accountants and CPAs nationwide.
In a statement Nancy Walters, W2 Mate product manager at Real Business Solutions said, "This new release reflects our commitment to delivering affordable, easy-to-buy and easy-to-use 1099-S filing solutions that help companies of every size process 1099 real estate tax forms in-house."
A free 1099-S processing software demo can be downloaded by visiting http://www.W2Mate.com
IRS tax form 1099-S can be filed on paper or electronically through the IRS FIRE System. W2 Mate supports both solutions. W2 Mate ships with one of the most advanced data import engines available in the industry, with easy-to-follow wizards that guide the user step-by-step through the import process. W2 Mate supports 1099 import from Intuit QuickBooks, Sage DacEasy, Sage Peachtree, MS Dynamics, Microsoft Great Plains, Excel and more.
The 1099-S electronic filing module, which ships with W2 Mate software prepares an unlimited number of E-File submissions which comply with IRS publication 1220. 1099-S E-filing is easy to use, eliminates the need to submit paper documents, efficient, fast, flexible and above all very affordable.
Below is a high-level functional breakdown of the W2 Mate software features:
-Prints 1099 recipient copies (Transferor and Filer copies in the case of 1099-S) on regular white paper.
-Data import from leading tax, accounting and CRM software applications including Microsoft Dynamics (Great Plains), Intuit QuickBooks Payroll (W2s) and vendor (1099s), Sage Peachtree, Sage DacEasy, Excel and CSV.
-Unlimited use of 1099-S, W2, 1099-MISC, 1099-INT, 1099-DIV, 1099-R, W-3, 1096, 1098-T, 1098, 1099-A, 1099-B, 1099-C, 1099-PATR and 1099-OID tax forms.
-Unlimited 1099 E-filing submissions using IRS FIRE System (No per form fees and No data transmission charges).
-Creates employee W2's as PDF and recipient (vendor) 1099-MISC as PDF.
-Government -approved to print W-2 and W3 tax forms on regular paper including federal copies.
-Unlimited W2 electronic filing submissions using the EFW2 format.
-Employee and recipient information rolls-over from year to year (you don't have to key in the same information every year).
-Efficient and intuitive manual W2 / 1099 data entry.
-Free, Prompt, courteous and reliable U.S.-based support through phone, chat or e-mail.
If you are looking for 1099-S compliance solutions we invite you to take W2 Mate for a test drive and see how easy printing and E-Filing 1099-S forms can be. Visit 1099 software page and download your free demo today.
About Real Business Solutions:
Real Business Solutions is an industry leader in providing payroll software for accountants and small businesses, 1099 electronic reporting software and W2 software solutions for companies, CPAs and financial institutions. W2Mate.Com is the premier source, where businesses can find software to print QuickBooks 1099 forms, E File MS Dynamics W2s, Email 1099s, prepare payroll, print payroll checks and prepare payroll tax forms.
# # #