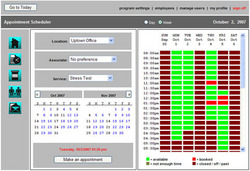 ReceptionistDirect.com has secured its place as one of the top providers of online booking services by designing the program interface to be as straightforward as possible in an effort to make the tools more accessible to a casual user, while still offering powerful features under a solid and secure platform
Staten Island, NY (PRWEB) January 11, 2008 -
ReceptionistDirect.com, a specialized software company providing online customer booking tools to appointment-based businesses, has expanded its offering to include additional components for medical offices, clinics and related establishments.
ReceptionistDirect.com is a business solutions company, whose principal product is an online appointment booking system that allows medical offices, spas, gyms and other types of appointment-based businesses to accept bookings online. The online appointment scheduling system offered by ReceptionistDirect.com is meant to supplement and, in some cases, replace the traditional method of scheduling appointments.
Expanding on the concept of opening up appointment-based businesses to the online community, ReceptionistDirect.com has now introduced additional tools designed for businesses within the medical field. These optional new tools are fully integrated into the main application to provide an all-in-one solution for these types of institutions. Added to the software bundle is the Specialist Referral module that facilitates the task of requesting referrals, the Prescription Refill Request module that allows patients to request prescription refills online and an additional component that allows medical offices to securely gather and store medical insurance information for reference by office staff.
All software tools offered by ReceptionstDirect.com are web-based and run on company-administrated servers, eliminating the need for on-site installation and maintenance. Businesses can begin using the software immediately without the hassles associated with new application deployment.
"While accepting bookings and offering other tools via the web is still uncharted territory for many businesses, providing customers with means of accessing services online is an inevitable path that all traditional companies will need to take to stay competitive in today's market," said Eugene Chernetsky, the founder of Receptionist Direct, LLC. "It is no longer enough to offer a phone number as the sole means of contacting a business and booking appointments, whether that business is a medical office, a spa, a driving school or any other appointment-based institution. A few years from now, it will be inconceivable for such businesses to not be able to accept appointments online. In the world where the Internet is used for everything, from ordering pizza to booking vacations, online appointment scheduling is a natural step in accommodating the needs of today's consumers."
"ReceptionistDirect.com has secured its place as one of the top providers of online booking services by designing the program interface to be as straightforward as possible in an effort to make the tools more accessible to a casual user, while still offering powerful features under a solid and secure platform," added Chernetsky. "But we are never content with the status quo. We continuously work with our customers to enhance our existing product and add new features, both generic and industry-specific."
About ReceptionistDirect.com:
Receptionist Direct, LLC is a New York-based software solutions company offering online tools for appointment-based businesses as part of a fully integrated software package with an online appointment booking system as the chief component. The software and associated databases are hosted on off-site servers administered by ReceptionistDirect.com.
Contact:
Sales Team
Receptionist Direct, LLC
http://www.receptionistdirect.com
###