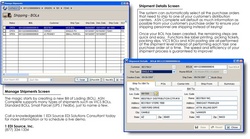 CLEVELAND (PRWEB) January 16, 2008
In the previous version of ASN Complete, the shipping cycle begins when order information is received electronically and a shipment record is created. Once the cycle is in motion, labels can be printed and reports can be generated for Packing Lists, Manifests and VICS BOLs. The last step of the cycle is posting the shipment and printing final reports.
We have re-designed ASN Complete v7.0 to be "Shipment Oriented," allowing companies to "pre-build" shipments and generate Packing Lists, Manifests and VICS BOL's at the beginning of the Shipping cycle. This allows for better transportation planning and order staging prior to trailer loading.
In addition to the comprehensive features available in the previous version of ASN Complete, version 7.0 offers processing of partial orders, batch orders and the ability to edit VICS BOL's to ensure 100% accuracy of items on the truck. These enhancements, along with ASN Complete's continued support of VICS BOLs and the overall shipping process, give users the best package for today's needs.
About Advance Ship Notices (ASN's)
Advance Ship Notice (ASN or 856) is an EDI formatted electronic packing list and is mandated by many companies today. An ASN refers to the information used in creating Bills of Lading and usually include such information as date of freight availability, equipment number, routing, identification, origin, and destination, and other necessary information sent by plant or carrier prior to arrival. Companies often require that bar-coded GS1-128 (formerly UCC-128) shipping container labels are affixed to incoming shipments. Prepared in association with a valid ASN transmission, GS1-128 labels connect the physical units of the shipment to the electronic information.
About 1 EDI Source, Inc.
1 EDI Source, Inc. was founded in 1989 with the purpose of facilitating EDI systems integration and providing affordable EDI software solutions. Today, 1 EDI Source is the premier provider of Electronic Data Interchange (EDI) Software, AS2 Software, ASN Software, Web-based EDI Services, EDI Data Mapping, EDI Consulting and EDI Outsourcing Services and is been committed to providing reliable and affordable EDI solutions and expert EDI advice to companies in the retail, consumer packaged goods, manufacturing, financial services, healthcare and telecommunications industries.