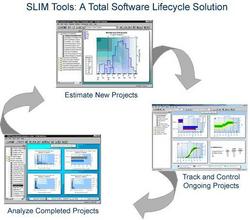 We see our blog as a great way to start a dialogue with our clients and prospects, and for software development professionals to read about our latest research findings, case studies, and developments with SLIM Tools
McLean, VA (PRWEB) July 7, 2009
QSM, a leader in products and services for systems and software lifecycle management, announces the recent redesign of its website and new blog for software developers and project managers. The website provides tools, resources, and consulting to help companies create world-class projects.
Key features of the new website include:
-- Practical Software Measurement Blog: QSM's blog will offer a dialogue and information to help software development managers improve, measure, and control their software development processes.
"We see our blog as a great way to start a dialogue with our clients and prospects, and for software development professionals to read about our latest research findings, case studies, and developments with SLIM Tools," remarks Managing Partner of QSM, Lawrence Putnam, Jr.
-- Software Consulting: QSM has updated its consulting offerings to meet the ever-changing needs of its clients. Visitors can find the latest services, such as Independent Bid Assessment, Acquisition and Program Management, and Benchmarking and Process Improvement, on the consulting section of the new website.
-- The QSM Database: Featured on the QSM website, this database is a collection of validated metrics from more than 8,000 completed software projects. QSM uses this data to continually improve and update its products and services to meet today's software and systems development challenges. Latest intelligence on the constantly evolving database can be accessed through the company's website.
-- Software Development Articles & Whitepapers: QSM maintains an extensive library of software development articles and whitepapers to educate and inform visitors on best practices for software lifecycle management.
-- Software Lifecycle Management Tools (SLIM Tools): QSM offers a suite of products designed to help software development managers with software estimation, software project tracking and controls, and software project analysis in order to support decision making at each phase of the software development lifecycle. Visitors can download product demos and review product information on the QSM website.
-- Downloadable Brochure: Interested prospects can easily obtain information about QSM by downloading a PDF version of the company's brochure. The brochure outlines key features of QSM's systems and software management products and services.
About QSM:
Since 1978, QSM has been at the forefront of the systems and software management field. The company is well known for its line of SLIM Tools for estimating, tracking, and benchmarking software projects, along with its systems and software consulting services, which include independent bid analysis, acquisition and program management, and benchmarking and process improvement. QSM was founded by Larry Putnam in 1978 and he continues to lead the company today. With over 30 years of experience and more than 400 client engagements as a systems and software management consultant, Larry is among the top problem solvers in the software estimation and measurement field. He is a published author of four books and numerous articles and is sought internationally as a speaker and software management consultant. QSM is headquartered in Washington, DC and maintains regional offices in Massachusetts, England, Malaysia and the Netherlands.
###