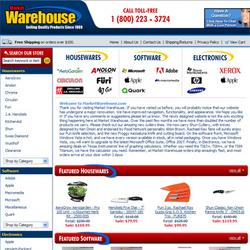 Since the release in July, shopping cart abandonment is down and sales are up 30% over last August
Plainview, NY (PRWEB) September 6, 2007
Market Warehouse Inc., a leading on-line retailer of computer software, consumer electronics and cookware, is pleased to announce the launch of their newly redesigned website MarketWarehouse.com.
Aside from the fresh new look, the website features many new and exciting features customers have been requesting. Market Warehouse's new shopping cart system offers a more streamlined checkout process and expanded shipping options to accommodate the needs of both domestic and international customers. In addition to continuing to accept all major credit cards, Paypal acceptance has been added as well.
Customers are enjoying better navigation, improved search ability, clearer product images, and more detailed descriptions. New features include "recently viewed items", making it easier for customers to navigate back to products they have previously viewed, and product recommendations based upon their browsing history. Hosted by Yahoo, the website offers the latest in transaction security and an industry leading 99.9% uptime.
"We are very happy to introduce the 'new' MarketWarehouse.com," said Robert Steiner, General Manager. "The challenge was to create a design which allowed for our three distinct product divisions to co-exist in a logical and easy to navigate interface. I believe we have succeeded in that." "Since the release in July, shopping cart abandonment is down and sales are up 30% over last August," said Steiner.
Corresponding with the new release are many exciting new product lines being offered, including the Aerogrow Aerogarden. The Aerogarden is the world's first kitchen garden appliance allowing consumers to grow delicious herbs and vegetables in their own kitchen. It was chosen as of one of the top 10 Mother's Day gifts last year by The View. "We are expecting 4th Quarter sales of the Aerogarden to be very brisk. We are making sure inventory levels are sufficient well in advance of the holiday season to avoid any shortages," said Steiner.
From computer software brands like Microsoft, Adobe, Corel and Quark, to electronics from Texas Instruments, and Xerox to cutlery from J.A. Henckels, Shun and Rachael Ray's Furi line, all of Market Warehouse's products are stocked in their Plainview, New York warehouse, and are available to ship the same day they are ordered. "Shipping is what we do best. Customers are amazed at how fast they receive tracking information for their order; often within fifteen minutes of placing it," said Thomas Weisz, President.
About Market Warehouse
Established as Software Plus in 1989, and incorporated as Market Warehouse Inc. in 1999, Market Warehouse is one of the top-ranked e-tailers on the Internet today according to all leading comparison shopping sites. The company offers a wide range of products, from computer software, to consumer electronics, to cookware and cutlery. Shipping to over 60 countries, Market Warehouse's clients include all branches of the US Armed Forces, the US Government, NASA, Fortune 100 companies, and hundreds of schools and universities.
In addition to MarketWarehouse.com, Market Warehouse is a merchant on Amazon.com, and operates an eBay store. They also maintain two specialty websites, MarketHousewares.com and MarketSoftwares.com. For more information about Market Warehouse, visit http://www.marketwarehouse.com or phone 1-800-223-3724.
Contact:
Robert Steiner
Market Warehouse Inc.
516-576-0395
###