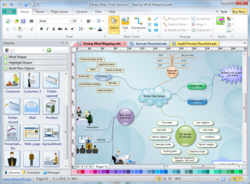 Create Charts, Graphics, Diagrams, and Maps in Various Fields and Type
(PRWEB) October 17, 2011
EdrawSoft announces today the release of Edraw Max V6, the new powerful diagram design software, which allows users to create professional-looking mind map, flowcharts, organizational charts, network diagrams, project management diagrams, scientific illustration and business charts. The abundance of different templates and the variety of drawing styles allows users to create charts and diagrams tailored to their specific presentational needs.
In a corporate environment, the folks over in human resources need to be able to create organizational charts, business presentations, and maybe some directional maps and office layouts to guide visitors through the facility. But, in the same company, the business professionals and engineers also need software that lets them create flow charts, mind maps, UML diagrams, workflows, network topology diagrams, web design diagrams, electrical engineering diagrams, project management diagram, and database diagrams.
What's the solution? Buy one graphics program that suits one group but forces the other to compromise and make do? Or purchase two separate graphics programs for each department's special needs? Edraw Max V6, an all-in-one diagram software, makes it the best choice to create charts, graphics, diagrams, and maps in various fields and type. Edraw Max is also indispensable for nearly everyone: students, scientists and business people. It provides a versatile, easy, quick and professional solution to let the designers enjoy their working. With over 5000 included vector symbols and an extensive library of pre-drawn illustrations, the designers will never have to purchase another graphics program ever again!
The UI of Edraw Max V6 is like the office 2010 style with the full ribbon features. It is easy to learn and use. If the designers are familiar with the Microsoft Office environment, they will pick up Edraw Max in no time flat. Thanks to the user-friendly interface, presenting all kinds of information and data becomes downright simple: just drag the template from the toolbar and drop it onto the canvas. Many pre-drawn library objects guarantee that every presentation looks special and innovative. Using templates, shapes, and drawing tools, the designer will be able to intuitively build charts and diagrams that convey information more effectively than ever before. Using a drag-and-drop design technique, combined with automatic alignment and lot's choice of colors, fonts, and styles, building diagrams in Edraw Max is quick and easy.
The best thing about the new version is its flexibility. Now the designer can import existing Visio XML files, as well as a variety of graphics formats, and the projects that created in Edraw Max can be exported in any graphics format, printed with full WYSIWYG support, or even shared with others as a svg, html, pdf or ms office file. The IT experts can even link diagrams with underlying data to provide even more complete and accurate picture of the information.
The Edraw Max developers never rest, and as a result, the diagram software has been continuously improved by software updates which have made the program faster than ever before, with new support for printing and exporting large documents. The version 6 added some new drawing types such as gantt chart, pert chart, scientific illustration, project timeline, bpmn diagram and electrical diagram, etc.
About EdrawSoft
EdrawSoft is a leading provider of drawing based applications. Formally established in April, 2004 with a small office that specializes in diagrammatic software development, graphic component development and web-based applications.
# # #