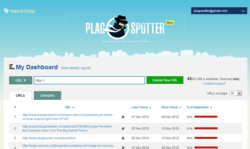 PlagSpotter offers free unlimited individual URL checks as well as has 3 paid subscription plans for automated scanning and monitoring of the web page content for plagiarism.
New York, NY (PRWEB) November 08, 2012
PlagSpotter (http://www.plagspotter.com) is a new duplicate content checker tool that enables bloggers, journalists, writers, priests, politicians, or any type of public figure to track if someone posts any of their material online. This is an important tool in preventing Internet copyright infringement, avoid Google ranking penalties as well as improve SEO (search engine optimization). Google constantly tries to provide the most relevant websites a searcher is looking for. If a website has too much duplicate content, then its SEO is compromised and can be put last in a Google search or removed entirely.
Development of PlagSpotter
PlagSpotter was developed by a Ukrainian-based web and software developing company, Devellar, in Kyiv, Ukraine in conjunction with an additional satellite office in New York City. Devellar was originally founded in 2004 to develop products for its own use. However, Devellar has expanded to give more diverse services in IT, Internet Marketing, ecommerce, and sales/support. PlagSpotter is one of its latest projects designed to increase SEO and to give authors power over their content distribution.
The Importance of Duplicate Content Prevention
Duplicate content is becoming more important and relevant for websites as a result of Google's latest penalties and algorithm updates. This means that websites that copy and paste stolen content unto their website risk not only poor SEO but copyright infringement as well. With PlagSpotter, website operators wanting to ensure that they utilize only original content can avoid any problems with duplicate content or SEOs by easily identifying if their content is truly original. Additionally, anyone who has written any original material is able to find out if their material has been duplicated elsewhere on the Internet without their permission.
PlagSpotter's Future Plans
Right now PlagSpotter offers free unlimited individual URL checks. The tool also has 3 paid subscription plans that allow for automated web content scanning and monitoring for duplicate content. PlagSpotter's immediate plans include an improvement of the duplicate content checking algorithm to make sure that it is quick and accurate. In addition, the company seeks to implement a set of new features to further precipitate meeting its customer's needs in their search for duplicate content across the Internet.