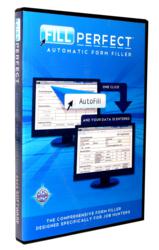 FillPerfect helps job hunters get more job offers more quickly, by enabling them to apply to jobs quicker and easier than ever before.
Spring, TX (Vocus/PRWEB) January 31, 2011
2424 Software announced today a trial program that provides a complimentary copy of the FillPerfect Automatic Form Filler to career and employment counselors. Also available is an affiliate program that enables anyone to earn revenue on referrals.
FillPerfect is a high-end, intelligent form filler designed specifically for job hunters faced with filling out on-line job applications again and again, on a daily basis. With a single click, this Internet Explorer add-on instantly and accurately completes even long, detailed employment applications, allowing job seekers to focus on finding job openings, rather than endlessly filling out applications. According to Mark Robison, CEO of 2424 Software, "FillPerfect helps job hunters get more job offers more quickly, by enabling them to apply to jobs quicker and easier than ever before."
FillPerfect, unlike other form fillers, comes with a built-in dictionary of virtually all fields commonly found on job applications, and can automatically fill in detailed applications, web-site registration forms, purchase forms, and other frequently encountered on-line forms. Also setting FillPerfect apart from other form fillers is its built-in intelligence: the FillPerfect form filler examines both key words and their context, the same way a person does when filling out forms. This built-in intelligence is critical for job applications, where something as simple as "Name" can be the applicant's name, a reference's name, a school or college name, a supervisor's name, or a previous employer's name. The typical form filler ends up putting the applicant's name into each field, or just gives up. FillPerfect, by examining the context of each keyword, puts the right information into the right field, making it the form filling software of choice for serious job hunters.
Included with FillPerfect are valuable extras just for job hunters such as multiple profiles for different types of jobs, a built-in quick-access list of job boards, and easy access to resume writing and distribution services.
Learn more about FillPerfect by watching the two minute video, "FillPerfect In Action", at http://www.FillPerfect.com and on YouTube. The FillPerfect software comes with a 30-day, unconditional money-back guarantee. It is available instantly for $24.99 via electronic download or shipped on CD for $34.98. Career and employment counselors are invited to contact customer service via the FillPerfect.com website for details on receiving a complimentary copy.
About 2424 Software
2424 Software develops and sells high quality, productivity-boosting software for home computer users. The FillPerfect® Automatic Form Filler has been shipping and helping people find the perfect job since November, 2009.
###