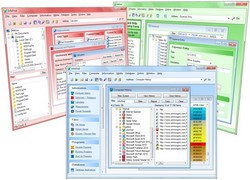 The people at Omnicognic have put lots of thought into InfoFind. What they have done is make many things that can be done with your computer easier and more intuitive.
Beverly Hills, CA (PRWEB) July 7, 2010
Omnicognic, LLC today announced the general availability of InfoFind 1.0.767, a significant upgrade over previous versions. InfoFind which was first released in 2008 is used by businesses and individuals in over 130 countries. Previously InfoFind contained premium features that only worked on after being purchased; the new version has been made free for everyone to enjoy and has comes with many new features and improvements. InfoFind has been awarded and recognized by many of the top software review and download sites worldwide.
InfoFind is best represented by its name. InfoFind was made for finding information; this includes information on computers, in files, in databases, and general information such as math calculations, word definitions, and measurements. When computers are featured in movies people are able to use them to find information instantly, however in reality it often takes a long time to find information or create and edit documents. InfoFind was created to make working with computers easier as it is done in movies.
Some of the main features of InfoFind include:

Ability to View and Clear a Computer's History
Look up words with InfoFind's Dictionary
Convert between Metric, Imperial, and Traditional Units
Perform Advanced Calculations with one of many Calculators
File Management, File Viewing, and File Editing
Creating Drawings and Sketches with a Tablet PC
View Pictures, Resize Images, and Create Web Page Slide Shows
View, Edit, and Search all Popular Database Formats
Easily Create Databases Applications at Home or at Work
Computer Security Help and System Information
File and Text Encryption
One of its most unique features is the ability for InfoFind to find and display all of a computers web and file history on a single screen with detailed information; this even includes the web history of other users on the computer. A lot of people try to clear this information but with standard programs it is not possible to clear all of it. Normally to access this information a number of expensive and hard to use computer forensics tools are required but now with InfoFind this information can be viewed easily and for free. With InfoFind consumers will be amazed or even shocked at how much information is saved on their computer.
A significant new feature allows for someone to search for data in any database of any size and without knowing the layout of the database. This is one of many features that makes using InfoFind at work a great productivity enhancer.
"The people at Omnicognic have put lots of thought into InfoFind. What they have done is make many things that can be done with your computer easier and more intuitive.", said Editor Joe Tex of sharewarejunkies.com the internet's oldest software review site.
"It's a handy way to access several utilities from a single interface.", said Editor Daniel Ángel Romero of the very popular software site Informer.com.
InfoFind has something useful for everyone so try it today!
About Omnicognic, LLC:
Omnicognic, LLC was founded in 2008 and is based out of Beverly Hills, California, United States of America. Omnicognic specializes in writing high quality software that includes database applications and development, programs for finding and managing information, computer forensics, encryption, various utilities, and web development. Omnicognic's flagship product InfoFind was initially developed over a 7 year period from 2001 to 2008 and can be freely downloaded and used on any Windows based Computer. In addition to InfoFind for Windows Omnicognic recommends software, publishes open source web code that helps make web pages more interactive, and publishes public domain encryption source code. Omnicognic writes software that is useful for anyone and can be in any Country and on any budget.
###